Book FREE CPD training for Education Professionals during COVID-19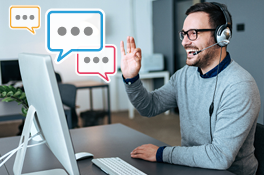 Designed for QTVIs, disability officers, SENCOs or any other Education Professionals supporting Visually Impaired Students
If your team is currently unable to deliver its normal support and services to your visually impaired learners, you may have time on your hands. Why not catch up on some CPD and schedule some product training for you and your available team?
We've got the technology to hook you altogether for group training, all they need is a phone, tablet or a laptop. Choose from any of the following or work with us to design a bespoke training to suit your team's experience:
Accessible book access for blind and low vision students with EasyReader & RNIB Bookshare
Certified SuperNova Trainer
Mastering VoiceOver with the free EasyReader app
Using Connect & Learn in the classroom
SuperNova Whiteboard Wizard
And if you'd like us to issue you with CPD certificate – we can do that too.
Call Dave Salisbury on 07896 562 511 to discuss your team's requirements or email dave.salisbury@yourdolphin.com.