Closing the Windows 8 Accessibility Gap
Published:
What are the limitations and alternatives to the built-in accessibility tools in the latest versions of Microsoft Windows? What are the assistive technology implications of Unified English Braille Code adopted recently by the Braille Authority of North America? Get practical answers to these and other assistive technology questions at the 31st Closing the Gap Conference held October 9-11 in Bloomington, Minnesota.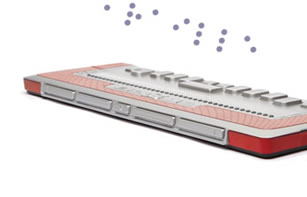 Windows 8 includes improvements to the free screen reader Narrator. But are the new voices and the introduction of several hotkeys truly sufficient to enable people who are blind or low vision to be independent and productive?
The Unified English Braille Code, adopted in many countries around the world, brings the promise of greater interlibrary sharing and transcription simplification. But what do you really need to know to start using UEBC with your students and clients today?
Jeff Bazer from Dolphin Computer Access will be presenting two sessions at this year's Closing the Gap conference tackling Windows 8 Accessibility and Unified English Braille.
Understanding the Windows 8 Accessibility Gap for People with Low Vision or Blindness
Date: Thursday, October 10, 2013 from 3:30 pm - 4:30 pm
Location: Atrium 1
UEB 101: The Changes and Benefits of Unified English Braille
Date: Wednesday, October 09, 2013 from 2:00 pm - 3:00 pm
Location: Atrium 1
Closing the Gap is the most practical, practitioner-driven AT conference in North America concerned with the current use of technology by persons with disability and associated professionals.
www.ClosingTheGap.com/conference/

Dolphin Computer Access delivers independence by developing and distributing a range of software products for people who are blind or low vision.