It's International Guide Dog Day
Published: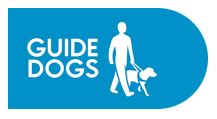 Today is International Guide Dog Day; acknowledging just how amazing these dogs are, and the difference they make to their human owners in terms of independence and companionship. They're matched to individuals based onpersonality and temperement, and each has a personality of their own!
Remember Joanne Roberts and Guide Dog Uska? Joanne wrote a book about their times together, from Uska's point of view, using Dolphin SuperNova. An ebook was released, and then Audible UK gave Uska a voice in the shape of television and radio broadcaster Nicholas Parsons and an audiobook followed.
Watch our video featuring interviews with Joanne and Nicholas as well as footage from the recording session.
Unfortunately Uska has now entered into retirement, although he'll remain with Joanne and husband Dave as a family pet. Joanne is now on the waiting list for another Guide Dog, and trying to raise as much money as possible for Guide Dogs UK with sales of her audiobook Confessions of a Guide Dog.
Listen to an excerpt of the audiobook, written by Nicholas Parsons, by clicking the button below.
---
Apparently everyone has a book in them, so why not write yours, with Dolphin SuperNova! Sign up to Friends of Guide Dogs and receive a 15% discount.
---