Cricket team bowled over at Worcester VI demonstration
Published: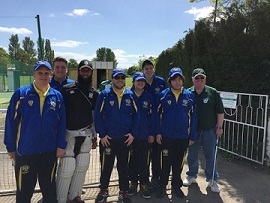 Blind and visually impaired members of Dolphin staff were thrilled by the opportunity to deliver a cricket demonstration at Worcestershire County Cricket Club during New Zealand's pre-Test tour.
Aj Ahmed, Ben Rendle, Colin Shales and Dave Williams are part of the Worcestershire Elizabethans; the visually impaired section of the city's Old Elizabethan Cricket Club. Cricket is made accessible for players with any level of eyesight using a ball that rattles, larger wickets and clear communication.
The Captain of the VI team, Dave, commented, "The improved confidence and mobility amongst these players since we established weekly cricket development sessions last June has exceeded all our expectations. Some of our group had not participated in any sport since losing their sight."
He added "Most people know someone with limited eyesight. This opportunity to show how we play cricket sends a message to the wider community that, increasingly, blind and partially sighted people are living active and fulfilling lives."
Before taking to the field the players posed in the sunshine for an impromptu photo opportunity with England and Worcester all-rounder Moeen Ali.
Training takes part on Wednesday evenings at Old Elizabethans, and new members are welcome.