Dolphin supports Load2Learn accessible resources for school
Published:
Plus free BETT workshops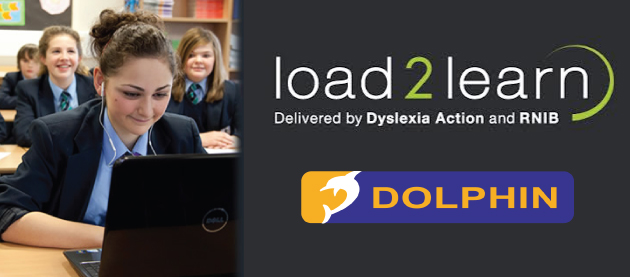 UK Primary and Secondary students who have dyslexia, are partially sighted or blind now have access to thousands of free accessible text books and images, through Load2Learn, a service delivered by Dyslexia Action and RNIB.
Dolphin Computer Access has recently signed to become a corporate partner of Load2Learn to support the service help reach more dyslexic and blind or partially sighted students. Schools can register with Load2Learn to access national curriculum texts in a range of formats: structured Microsoft Word, PDF, EPUB and audio. It enables staff to support learners who cannot access standard print to read the same books, at the same time as classmates, giving them the same educational opportunities as everyone else.
University of Southampton & Department for Education (DfE) research clearly shows that over two thirds of students with dyslexia improve their: reading, writing and level of achievement when they have access to electronic learning materials and appropriate assistive technologies. Visually impaired students also benefit. Confidence, homework completion and attendance increase for all groups.
Final chance: Free Load2Learn workshops at BETT:
Dolphin will be joining the Load2Learn team to offer free workshops at BETT 2013 on Wednesday, 30th January. For more details and to reserve a place, visit: www.load2learn.org.uk


SaySo - the reading & writing toolbar for dyslexia
Learn more about SuperNova - for every visual impairment