Hal - Now the most popular Arabic Screen Reader
Published:
Now recognised as the most popular screen reader in Arabic speaking countries, Hal's rapid ascent to the top is driven by the same desire for no compromise computer access, as that of all blind computer users worldwide.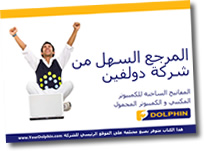 The Arabic edition of Hal includes all of the latest version 10.03 features and application support, but also includes the ability to read text that runs from right to left, as well as left to right. Bundled with the popular Arabic Acapela voices, Hal correctly and intuitively announces sentences that contain a mixture of English and Arabic text.
Furthermore all of this functionality is also available on the Dolphin Pen, a portable USB drive that enables blind computer users to take their screen reader and their Hal settings with them to other PCs.
Hal's Arabic success story is also thanks to the expertise, advice and excellent product support delivered by Dolphin's Middle East partner, Nattiq Technologies. Steve Bennett, Sales Director for Dolphin Computer Access explains further.
"Dolphin Computer Access and Nattiq Technologies are delighted to report record Middle East sales for the first quarter of 2009. Dolphin has focused a huge amount of development work on ensuring our Arabic speaking customers experience optimum screen reader and Braille display access. Combining this with the expertise of our partners at Nattiq has concluded in Hal winning some exciting first quarter contracts in Jordan, Kuwait & Palestine."
Significantly this early year success is in despite of the backdrop of a global recession and economic downturn. Auda Hazeem, CEO of Nattiq Technologies explains.
"Our wonderful momentum is carrying us through this very difficult global slowdown. The hard work achieved by the Nattiq and Dolphin team is starting to pay off in our region."