NLS BARD talking books delivered by Dolphin Guide
Published: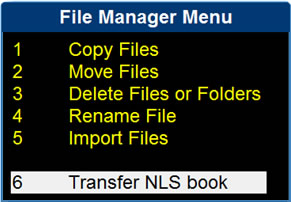 Dolphin Guide now includes hassle-free access to browse & transfer talking books from the National Library Service BARD. Enjoy New York Times best sellers or classic novels on the move, thanks to Guide's simple, talking menus.
Easy as 1, 2, 3 and No tricky website navigation!
NLS BARD members can now instantly access thousands of accessible books and magazines direct with Dolphin Guide. Enter your NLS credentials just the once, and then browse books by subject or author. Interested in a specific title? Use Guide's handy search feature.
You can then transfer your books to your Victor Reader Stream or other portable player, for reading on the move. Plus Guide only uses simple step-by-step instruction, so there are no complex websites to navigate or passwords to repeatedly type.
See just how easy it is in our short video:
Dolphin Guide - refreshingly simple & totally accessible
Anyone new to computers can use Dolphin Guide's high contrast, large print talking menus to send and receive messages, browse the web and scan through your mail. Learn more about Dolphin Guide & try it for free.