AFB AccessWorld® Review and Recommend Dolphin Guide
Published: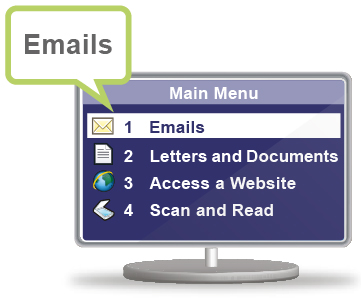 Jamie Pauls was quick to recognize that Dolphin Guide is "More than just a screen reader" during his recent evaluation of Dolphin Guide for AFB's AccessWorld Magazine®.
For many people with a visual impairment, their sight loss journey begins before they decide to tackle basic computing. Jamie succinctly describes why Guide works for this audience and many others with a vision impairment.
"Guide contains an array of programs and utilities for someone who is not an experienced computer user or who, for various reasons, may not be able to complete complex computing tasks. Guide provides simple, step-by-step instructions for completing projects in a safe, uncluttered environment."
It's these "step-by-step instructions" that make writing and reading emails with Guide so simple for the "more novice user who simply wishes to communicate with friends and family"
Guide's unique simple step-by-step approach isn't restricted to just email. To scan and read with Guide is just as simple and effective as Jamie discovered during his review.
"Guide offers a full-featured scanning and reading solution for those who want to read a good paperback novel or check the day's mail. As with everything else I explored using the program, I found Guide's step-by-step instructions for scanning and reading documents to be straightforward and easy to understand."
Turns out web browsing with Guide is also a no compromise experience too.
"I was able to navigate the Fox News site with no issues. This site is rather large, with a lot of links on the front page. Guide loaded the page quickly and performed all tasks as I would have expected."
Guide isn't just about communication though! Hassle-free access to books and newspapers was recently introduced, with Guide's same trademark step-by-step menus. Guide users have the choice to browse and read both newspapers and books from NFB-NEWSLINE®, Bookshare® and NLS BARD.
"I browsed Bookshare with Guide, downloading a book and reading articles from a local newspaper. It is possible to move from section to section in an article with Guide, or to simply read from the beginning. I found Guide's search functions and its handling of downloaded books to be quite speedy and easy to work with."
Looks like Jamie Pauls at AccessWorld® Magazine is a fan of Dolphin Guide, concluding ...
"I would definitely recommend this product for anyone who needs assistance with basic computing skills"
Thanks Jamie!