Royalty evaluates SuperNova in Arabic
Published: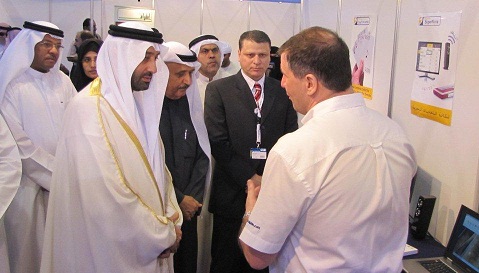 Dolphin Computer Access was delighted to attend the first ever "Sight Me" Exhibition and Conference of visual disability technologies in Shajah, UAE last month. Organised by the Emirates Association for the Blind, the 3 day conference brought together blindness technology companies from around the world, to meet with visually impaired people from across the Middle East.
Among the many visitors to the Dolphin booth was His Highness Sheikh Saqr Bin Mohammed Bin Khalid Alqasimi, a royal family member in Sharjah. Sheikh Saqr has always shown special care and attention to the needs of people with visual impairments and recently became the patron of "Sight Me".
Whilst in the capable hands of Dolphin's Sales Director, Steve Bennett, Sheikh Saqr experienced SuperNova on a second generation Dolphin Pen magnifying, Brailling and reading Arabic and English text. As Steve explains, this was his first experience of portable screen access technology for people with visual impairments.
"His highness commented on how human the new Arabic voice Laila sounded. He also remarked on how effortlessly SuperNova was able to automatically language switch from Arabic to English and from English to Arabic text. Changing on the fly ensures our Arabic speaking SuperNova customers can focus on their work and retain their high productivity."
The new second generation Dolphin Pen is immediately available with Hal Screen Reader and SuperNova Reader Magnifier versions 11.58. Both include Acapela's Laila, Salma, Mehdi, Saieda and Heather voices. Customers wishing to upgrade their Dolphin Pen or their CD to the second generation Dolphin Pen edition can do so by contacting Nattiq.