We're Friends of Guide Dogs. Are you?
Published: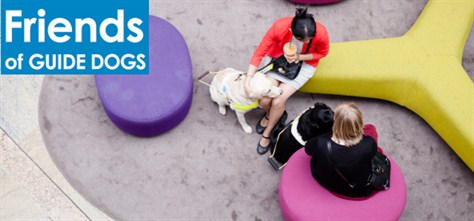 At Dolphin we care about the visually impaired community – not just users of our products, but everyone who is blind or partially sighted. We work closely with organisations who support visually impaired people; from charities to schools to other assistive technology suppliers.
As part of this responsibility, we're very proud to be working with the charity Guide Dogs, and part of Friends of Guide Dogs – their free-to-join community for people with sight loss. You might be a guide dog owner yourself, work with people who are blind or partially sighted, be visually impaired yourself, or just want to find out more about the amazing work that the charity does.
Friends of Guide Dogs is completely free to join – you'll receive a welcome pack, regular updates and be able to contribute to their work through events in your area, and their online community to talk about your issues and experiences, share information, and maybe make new friends.
In addition, you'll receive exclusive offers from organisations such as Dolphin, including 15% off all our products for both new and existing customers, including software upgrades.
If you've already joined then great! The discount is open to existing friends of Guide Dogs as well.
If not then sign up is quick and easy.
---
Register today at http://www.guidedogs.org.uk/supportus/join-friends-of-guide-dogs/#.Va0BtvlVhBc or call Guide Dogs on 0845 372 7499 for more details.
---