Macular Week 2016 runs until Sunday 3rd July
Published: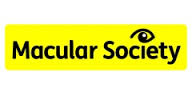 Macular Week is spearheaded by the Macular Society and aims to promote awareness around Macular Degeneration. Age-related macular degeneration (AMD) is the largest cause of sight loss in the developed world and yet many people haven't heard of the condition. The macula is part of the retina at the back of the eye. It is only about 5mm across but is responsible for all of our central vision, most of our colour vision and the fine detail of what we see. Macular conditions cause loss of central vision.
The Macular Society recently released a short video explaining more about Macular Degeneration, which you can watch below.
---
Macular Society is offering 6 months free no obligation membership to new joiners. To take advantage of this offer, visit https://www.macularsociety.org/6months or call 01264 350551.
Full membership is just £18 per year.
---