Windows 10 for Blind and Partially Sighted People
Published:
SuperNova FAQs, tips, tricks & other useful 'stuff'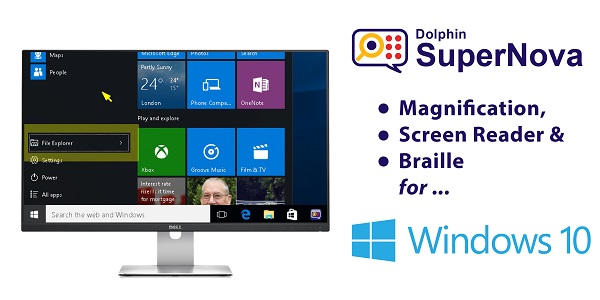 There's a big buzz brewing around Windows 10 and our SuperNova customers aren't the exception. In fact the Dolphin phone has been ringing off the hook with questions about SuperNova's compatibility with Microsoft's newest operating system.
So what does Windows 10 have to offer blind and partially sighted people? How does SuperNova work with Windows 10? And how do you use the 'Get Windows 10' app to reserve your free Windows 10 upgrade?
Over the coming weeks, we'll be answering these and many more questions. So here's a quick recap on the basics of the Windows 10 release:
Windows 10 is due for release on 29th July
It is a free upgrade for Windows 7 & Windows 8.1 users
Microsoft's free upgrade offer will remain open for 12 months. Meanwhile you can reserve your copy (read on for how)
Windows 10 is billed as the "Windows you know, only better" - so combining the best bits from Windows 7 & Windows 8. Oh and we love that it starts up superfast!
The consensus from the wider IT industry is that Windows 10 is good & well worth consideration (and Dolphin agree!)
Read on for our Windows 10 Tip #1 or read the SuperNova and Windows 10 FAQs.
---
Tip #1. Windows 10 - How do I reserve my free upgrade using SuperNova?
---
Not sure how to reserve your free Windows 10 upgrade? Here's how to use the 'Get Windows 10' app with SuperNova!
The 'Get Windows 10' app appears as a small Windows icon found in the right end corner of your taskbar. To get there using only the keyboard & SuperNova:
Press the Windows key + B. This will place the focus in the Windows System Tray and SuperNova will announce this.
Using the left & right cursor keys to navigate along the list of items until you reach the 'Get Windows 10' app and press Enter.
A webpage will open. Follow the simple instructions and enter your email address when prompted.
If the windows upgrade option is not listed in the System Tray, try checking for Windows updates via the windows update option via the Windows Control panel.
---
---
So if you're thinking Windows 10 might be for you, here's some extra facts for new and existing SuperNova users:
What version of SuperNova do I need for my Windows 10 upgrade when it arrives?
SuperNova 15 will introduce support for Windows 10 and will be available in all 4 editions for varying degrees of sight loss: Access Suite, Screen Reader, Magnifier & Reader and Magnifier.
SuperNova 15 on Windows 10 will include the full suite of SuperNova features that our customers love and rely on, including: True Font magnification, touchscreen support, lag-free tracking, multiple monitor support, full screen reader access, Braille display support & Bookshelf access to thousands of books and newspapers.
When is SuperNova 15 with Windows 10 support due for release?
Microsoft intends to release a series of Windows 10 updates in the first few days after the initial release on 29th July. To ensure SuperNova's widest compatibility with these updates, SuperNova 15 will be officially released shortly after Windows 10. But don't panic! Windows 7 & Windows 8.1 customers have 12 months to guarantee receiving their free Windows 10 upgrade, so there is no need to worry about missing out.
I've signed up to Microsoft's 'Insider Program' and am already trialling Windows 10.
You'll be pleased to hear that Dolphin will very shortly release a public beta of SuperNova 15 with Windows 10 support. Sign up to the Dolphin newsletter to receive immediate notification of the SuperNova 15 public beta, as well as the latest Windows 10 & SuperNova 15 news from Dolphin. Or follow Dolphin on Facebook, Twitter or Linkedin.
How do I upgrade to SuperNova 15 when it is released?
Customers running v14 and earlier will need to upgrade to SuperNova 15 to receive support for Windows 10. This is a paid for upgrade charged at the standard SuperNova upgrade prices. Contact Sales or your local Dolphin Dealer to pre-order your SuperNova 15 unlock code.
I'm looking to buy SuperNova now, should I wait?
There's no need to worry about missing out! Customers buying SuperNova Access Suite, Screen Magnifier, Reader Magnifier or Screen Reader, (or upgrading from an earlier version) will receive a free upgrade to 15 with Windows 10 support.
Do you have any recommendations for me as a SuperNova user thinking about Windows 10?
Microsoft have published a short list of recommendations for screen reader and magnifier users moving to Windows 10. SuperNova users are also encouraged to follow these guidelines. In a nutshell Microsoft suggest:
Set your default web browser to Internet Explorer
Use Adobe Reader for an accessible PDF reading experience
Use the Outlook and Office desktop applications, not the app versions