VI cricket Twenty20 World Cup - currently underway in India
Published:
VI cricket is becoming increasingly popular amongst people with low vision. Blind cricket was first played in Melbourne in 1992, and Blind Cricket England & Wales (BCEW) have been working in partnership with British Blind Sport and the England and Wales Cricket Board since 2006 to deliver competitive cricket for those who are blind or partially sighted running national and international competitions.
The second ever blind cricket Twenty20 World Cup is currently underway in India - the first having taken place in 2012, and there are 10 teams competing for the illustrious title of World Champions, including a debut team from New Zealand.
So, what are the rules of blind cricket?
Key rules and regulations
Among the playing XI, four players are fully blind (B1 category), three players partially blind (B2 category) and four players partially sighted (B3 category).
There are special exemptions given to B1 players. Every run they score is doubled before adding to the scoreboard. Players in this category can't be stumped and can take a catch on one bounce.
The ball that is used is filled with some ball bearings so that it can be heard by the fully blind batsmen and fielders. The bearings inside the ball help players hear and play shots and catch or field.
Bowlers are only allowed to bowl underarm.
The bowler shouts "Ready?" before releasing the ball to which the batsman must respond by saying "Yes". Then the bowler shouts "Play" before releasing the ball. The umpire declares a ball no ball if these rules are not followed. Even the timing of these calls by the bowler is important. Shouts made too early or too late are termed ineligible.
The stumps are higher and wider than normal ones. They are 35 inches high and 10 inches wide.
At the time of this article, England are due to face Pakistan in the semi finals, with the winner playing reigning champions India after they beat Sri Lanka today.
Here's a picture of local blind and visually impaired cricket team Worcestershire Elizabethans, who's players include our Colin Shales, Aj Ahmed and Ben Rendle.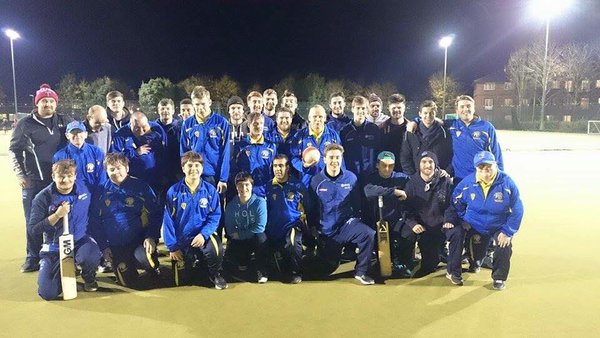 England players of the future, maybe?!