Guide 9 - easy access to books for people with sight loss
Published: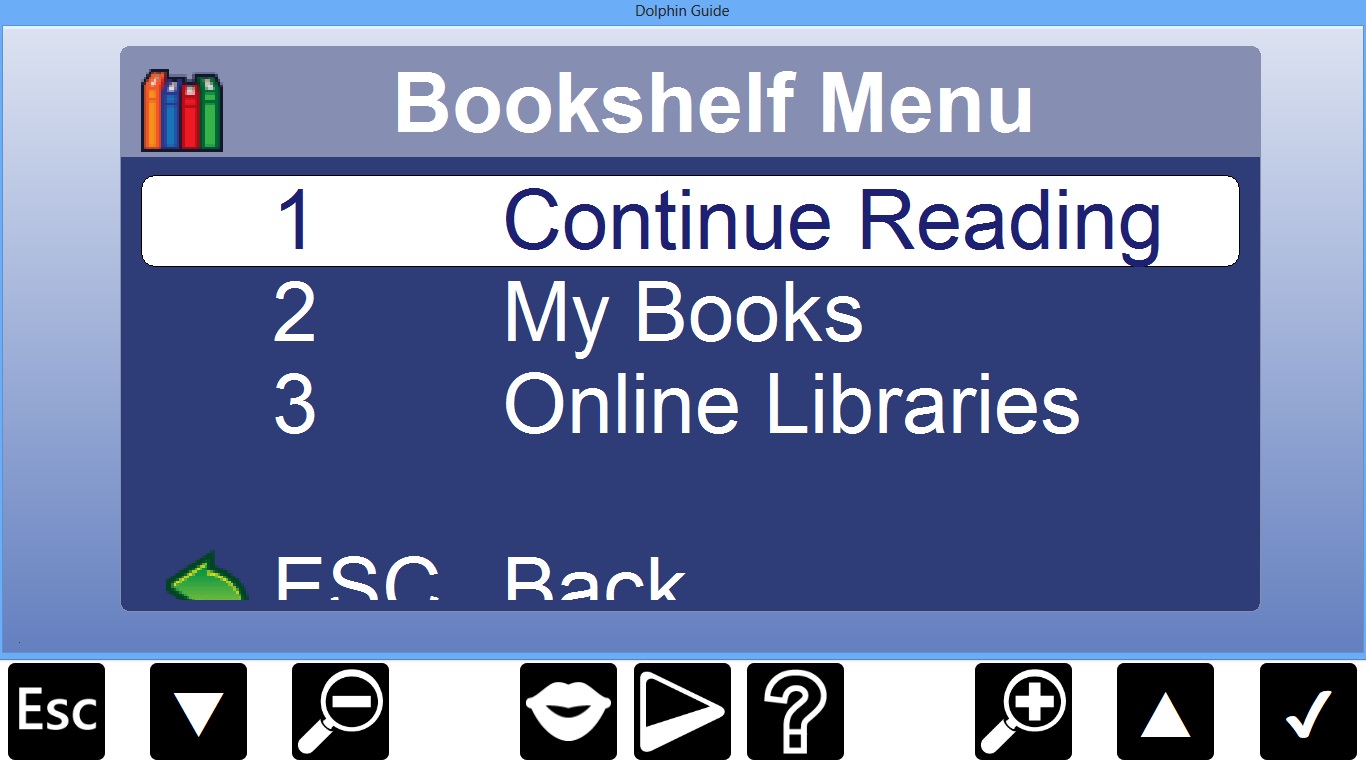 Guide 9, available immediately in the UK, delivers easy access to a world of reading for people with sight loss. Classics, best sellers and regular publications are conveniently downloaded, enlarged and spoken out loud, so people living with sight loss can enjoy the power and pleasure of reading. Guide 9 also introduces straightforward access to the latest Windows 8.1 tablets and touch screen laptops.
---
"Anyone of any age with any level of sight loss can use Guide straight away" explains Zena, who regained her independence after losing her sight by using Guide to keep in contact with family and find recipes online.
---
Guide 9 offers fantastic reading choice with unlimited access to hundreds of thousands of accessible books, magazines and periodicals - made possible with partnerships between Dolphin and leading accessible libraries such as Bookshare®. Finding books from favourite authors is easy with Guide's straightforward menus. Guide enlarges text making books easy to see and speaks text out loud with natural sounding voices to listen to at your own pace. Guide can also help you read on the go with simple options to transfer titles to portable MP3 and DAISY players.
People with low vision now have easy access to the latest Windows 8.1 tablets and touch screen laptops. Guide 9's touch screen gestures are easy to learn, even if you've never used a touch screen before. Use one finger to explore Guide menus; Tap with two fingers to start and stop Guide reading and stretch two fingers apart to zoom in for a closer look. For typing on screen, Guide 9 includes a high contrast large print keyboard that is easy to see.
Guide is rapidly gaining a reputation for opening a world of information, communication and entertainment for people with sight loss who traditionally found computers too complicated. Reading emails, searching the web or listening to podcasts are all made easy with Guide's clear numbered menus.
Explore accessible books and touch screen support with our series of Guide 9 video tutorials.
Try Guide 9 for yourself with a free 30-day trial or find out more by reading a complete list of What's New in Guide 9.
Customers with an existing Software Maintenance Agreement (SMA) will receive Guide 9 without any additional charge. If you do not have an SMA, or would like to discuss your options for upgrading from Guide 8 or earlier, call Dolphin or your dealer to receive a personalised quote.

Notes:
Guide 9 is immediately available in UK English. Additional languages versions will be made available over the coming weeks.
Bookshare® is an online library of accessible digital books for people with print disabilities with over 225,000 titles. Membership is free for U.S. students with qualified print disabilities and schools. Non-students pay a low annual fee.