Vote for Dolphin in the Citrix Ready Spotlight Video competition
Published:
The Citrix Ready program showcases verified products that are trusted to enhance Citrix solutions for mobility, virtualization, networking and cloud platforms. SuperNova Enterprise edition achieved that accolade, being certified by Citrix as a Magnifier & Screen Reader that can be used for remote access in Citrix environments.

Citrix recently held a competition, inviting partners with Citrix Ready products to make a video showcasing those products. Our videographer worked hard on Dolphin's entry, and we've been shortlisted as one of 10 finalists!
Watch our video below.
We need your help! We'd obviously love to win the competition, so we'd be really grateful if you voted for us...
To place your votes, visit the Citrix Ready video page, or click on the image below, select the Dolphin video by clicking on the SuperNova Enterprise logo on the left of the screen, and then click on the vote here thumbs up below the video.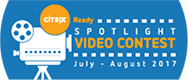 ---
To find out more about SuperNova Enterprise and how it's suitable for large organisations running remote desktop environments, visit our product page.
---