Employable Me on BBC Two
Published:
UK TV channel BBC Two is currently airing the second series of Employable Me; a programme focussed on the challenges faced by people with disabilities in applying for and securing employment. Last night's show followed amputee Darren and Kerie, who has been blind all of her life and has moved from Ireland to the UK in search of a job.
You can watch the episode on BBC iPlayer.
Figures from RNIB indicate that only 1 in 4 visually impaired people in the UK are in employment, which is both disappointing and unacceptable. Unfortunately, people with sight loss have to try harder than sighted people just to level the playing field. They are often negatively judged at the application or interview stage based on their disability. Potential employers sometimes view their limitations rather than their strengths.
Whether it's prospective employees applying for a job or existing employees who's sight may be detiorating, blind or partially sighted people should not be excluded from employment.
With SuperNova, visually impaired employees can use a computer to do the same role as sighted employees. Magnification, optional speech and even braille support make computing fully accessible - whatever their level of sight. Employment friendly features like multiple monitor support make working alongside sighted colleagues easy, while our SuperNova USB delivers flexibility to work at home or in other departments or sites.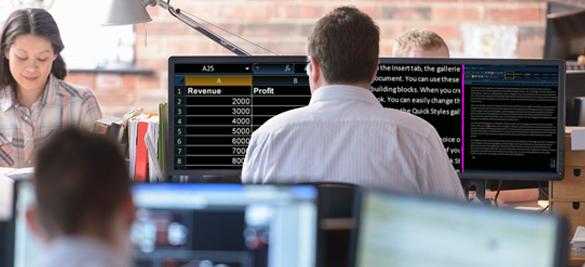 We offer tailored licensing options designed for organisations of all sizes, and all our software is available for a 30 day trial, completely FREE!
It's great to see programmes like Employable Me raising awareness around discrimination, and hopefully changing perceptions of employers towards people with disabilities. Organisations like ourselves also have a role to play, both in employing blind and visually impaired people within our business, and championing the success of people who are able to carry out their job role thanks to SuperNova - people like Mark who works for Worcestershire NHS Trust.
---
If you use SuperNova in employment and would like to share your story, please send us a message.
If you're an employer who would like to find out more about how SuperNova can benefit your employees, call our UK office on 01905 754577, send us an email, or contact your local dealer.
---