Download "Confessions of a Guide Dog" and raise money!
Published: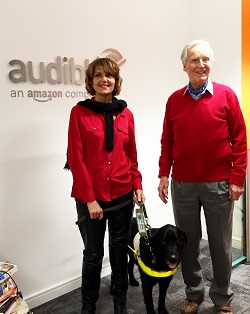 We're thrilled to support Dolphin customer and friend Joanne Roberts, who is raising money for Guide Dogs UK through the release of her self written audio book.
"Confessions of a Guide Dog" is the story of Uska, Joanne's 4 legged guiding companion over the past 8 years. Joanne lost most of her sight 14 years ago as a result of diabetes and was registered blind. During her time with Uska they've had lots of adventures, which Joanne decided to write about from Uska's point of view.
Joanne wrote the book using SuperNova Magnifier & Screen Reader, and credits Dolphin with her rehabilitation after her sight loss. "The way I turned my life around was learning about SuperNova software," says Joanne. It's a misconception that people who are blind have no sight at all. In Joanne's case she has limited vision in one eye, which she still uses as much as possible. Using SuperNova Joanne was able to develop her computer skills; making use of the built in magnification with her remaining sight and the addition of speech to read screen content aloud, enabling her to navigate websites, emails and Microsoft Word.
Confessions of a Guide Dog was first released as an ebook available on Kindle, but Joanne wanted to make her work fully accessible to all audiences, and began working on an audio version. Audible.com, part of Amazon, commissioned the work, and matched mischievous Uska with the voice of well known radio and TV broadcaster, Nicholas Parsons.
Watch Joanne and Nicholas as they talk about the project at the Audible studios.
A Guide Dog will cost £50,000 during their lifetime, and Joanne was keen to raise money for the charity to thank them for the difference Uska has made to her life. Uska is nearing retirement age and Joanne is now on a waiting list to be matched with a new Guide Dog, although Uska will remain with her as a faithful family pet.
---
Confessions of a Guide Dog narrated by Nicholas Parsons is available to download now and 10% of the purchase cost will be donated directly to Guide Dogs UK.
---