We're at Techshare India 2016
Published: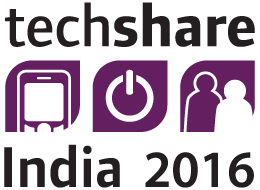 Techshare India is back for the fifth time, and Dolphin will be exhibiting on Thursday 3rd and Friday 4th March, as well as presenting two papers.
Organised by Barrierbreak in conjunction with National Centre for Promotion of Employment for Disabled People (NCPEDP) and Royal National Institute of Blind People (RNIB) UK, the event delivers a conference and exhibition discussing accessibility and assistive technology at a national level in India, with strong international participation.
Our sales director Steve will be in New Delhi demonstrating how Dolphin products work within the event theme of "Towards Digital Inclusion"; bringing access to people who are blind or visually impaired, enabling them to use technology in the same way as their sighted peers for education, employment and enjoyment.
As well as exhibiting, Dolphin will be presenting a different paper on each day.
3 March 2016, 4pm to 4.40pm
TRACK 2 (Ability): Windows 10 Accessibility: the Reality for Blind and Low Vision People (SuperNova)
4 March 2016, 4pm to 4.40pm
TRACK 2 (Ability): Making Alternative Formats: One Size Does Not Fit All! (EasyConverter)
Our commitment to delivering accessibility options to low vision individuals takes us to global locations; where we work alongside dedicated sight loss organisations, charitable trusts and accessibility specialists to bring our producst to those who need them.
---
For more information about this event, visit the Techshare India website
---