SuperNova Connect and View launches at CSUN 2016
Published:

SuperNova 15.03 launches this week at CSUN 2016 in San Diego and includes an exciting, new patented technology - Connect & View. Developed by developers at Dolphin Computer Access, this ground breaking low vision solution is exclusively available in SuperNova's 3 editions - Magnifier, Magnifier & Speech and Magnifier & Screen Reader.
Developed in partnership with education professionals supporting visually impaired learners and leading sight loss charities, Connect & View was previewed at ATIA and VIEW Conference and is already getting rave reviews:
"We are really excited about SuperNova Connect & View and anticipate it will be exactly what our students need."
Amanda Martin, Inclusive Technology Assistant,
Sensory Impairment Service Northamptonshire
"Wish that had been around when my daughter was at mainstream school!"
Laura Hughes
---
Connect & View – the teachers' interactive whiteboard
---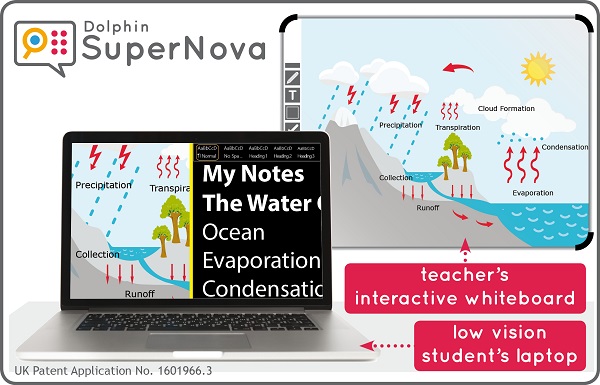 With Connect & View from SuperNova, partially sighted students can connect to and magnify the teacher's interactive whiteboard on their own tablet or laptop. The student can then customise the view to meet their own magnification and colour scheme needs. The split screen feature enables them to make notes at the same time as monitoring what's happening on the whiteboard.
Connect & View enables partially sighted students in mainstream classroom environments to work alongside their peers in the same way. Connect & View is quick and easy to set up at the beginning of a lesson and offers password enabled access for security. Inbuilt snapshot technology means a student can save a copy of the magnified screen at any time for use when they need it.
With SuperNova Connect & View low vision students can:
Magnify and explore the smartboard in comfort from their own laptop or tablet
Apply a colour scheme to suit the information and their sight
View the magnified smartboard and their app, side by side
Take a snapshot for further exploration at their own pace or for a later date
Take a snapshot to read at home - quicker and more accurate than notetaking
Track the teacher's mouse or cursor at the click of a button.
Create a profile for each classroom to ensure a quick start to each new lesson.
Staff and educators can be confident, thanks to:
Simple set-up at the start of the class with no disruption to other students
Password protection; ensuring documents are always safe & secure
Compatibility with ALL interactive whiteboards
---
Connect & View – with a camera
---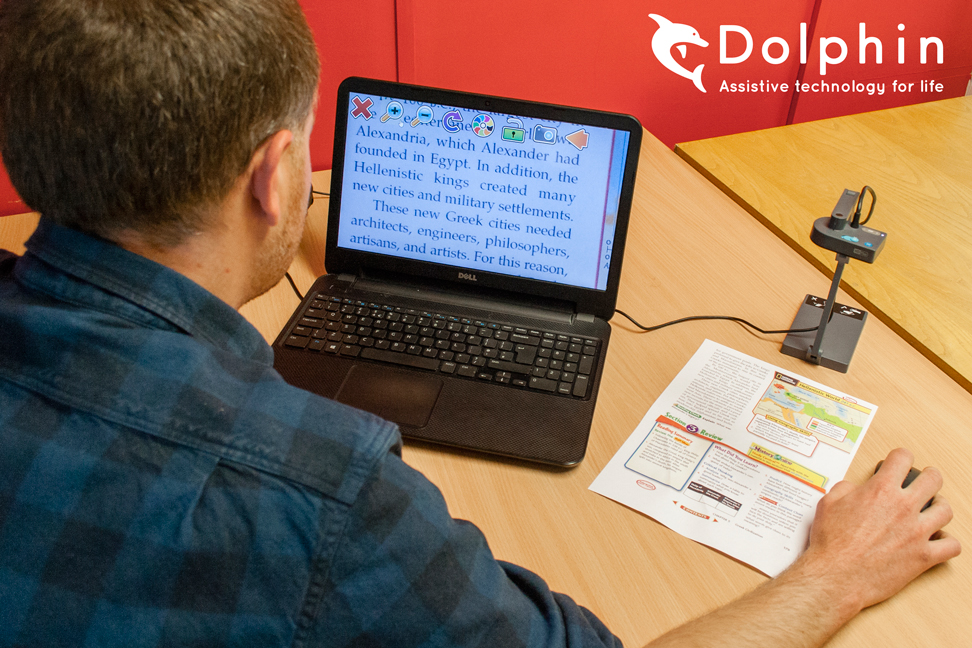 Connect any high-definition (HD) camera to your computer and SuperNova Connect & View turns your tablet, laptop or desktop into a lightweight, portable video magnifier.
Magnify newspapers, magazines, bills, labels and even objects onto your computer screen.
Turn on Connect & View and the viewer displays what ever is under the camera lens.
Connect & View comes with a handy toolbar giving users instant access to the most popular features by mouse or touch:-

Increase and decrease the magnification
Use the increase and decrease magnification buttons on the toolbar to zoom in and out for comfortable viewing. Touchscreen users can also adjust the magnification with a 2 finger stretch or pinch.
Rotate the image in the viewer
Convenient for when your document is accidentally upside down.
If the image is difficult to see or the contrast poor, adjust the colours by repeatedly pressing the colour changer button that cycles through a variety of the most popular schemes including, invert brightness, high contrast black on white, high contrast white on black, yellow on blue, white on blue and yellow on black.
Lock your camera's auto focus
If your camera includes an auto focus feature, you may prefer to turn it off as it can be distracting with magnification applied or when under fluorescent lighting.
Capture the image for further exploration
The capture image button copies the camera's image, unmagnified, which can then be saved or added to a document for future reference. Alternatively SuperNova can convert the image into text and read aloud using SuperNova's "Scan and Read" options. Also:
Adjust the viewing area to top, bottom, left or right side of the screen; and change the viewing area size to fill 80%, 50% or 20% of your screen, or even sent to a second monitor.
No need to move your worksheet around under the camera, or use an X-Y table – use the mouse or touch to explore your document easily.
Q: What camera do you recommend with Connect & View?
A: Any camera that connects via USB 2.0, that uses a standard Window's driver and has video capability. As a general rule of thumb, if your camera works with Skype, it will work with SuperNova Connect & View. For optimum results, choose an HD camera with autofocus, delivering 1080p video resolution with automatic low-light correction. To ensure your camera always remains stable, we also recommend using a camera stand.
---
Connect & View – the same presentation
---
Ideal in employment or during training, Connect & View also allows low vision audience members to connect to the presenter's computer and follow the same presention, in real time, on their own device. Add magnification, colours to suit and screen captures at the click of a button and you've got a fully accessible workplace solution.
UK Patent Application No. 1601966.3