David Blunkett gets educated by Dolphin
Published:
Dolphin Computer Access, the Worcester based specialist software company, was very pleased to welcome David Blunkett MP to their offices recently. The former Home Secretary decided to visit Dolphin, along with Mike Foster the local MP, to experience their latest products.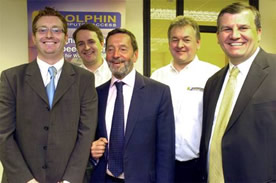 Having been in communication with Mr. Blunkett for over 12 months, on the development of new solutions that promote total inclusion and learning in school, Dolphin was pleased to offer Mr. Blunkett a personal demonstration. Codenamed 'The Blunkett', this latest product allows teachers and students alike, to take text and convert it into a digital talking book, using a speech synthesiser. The end result is an interactive, full text and audio book, which can be accessed by all.
Steve Bennett, Dolphin's Sales Director, explains "The development team took a lot of inspiration from a report on BBC Five Live radio, which described how much work was involved in making Mr. Blunkett's red briefcase accessible. We thought this would provide the right focus for the product development and implementation - so we decided to call the prototype The Blunkett".
Mr. Blunkett was extremely excited with the range of ground breaking products being developed by Dolphin, and was also quick to recognise the benefits of Dolphin's new education products. Imagine a classroom environment that includes children with sight problems, language problems, print impairments, dyslexia and other learning issues. With such a variety of needs within the classroom it is difficult to find a solution that satisfies everyone's requirements for learning materials and information, at the right time and in a format that satisfies every pupil. Dolphin's goal is to create solutions that will deliver education content simply and easily in a format that satisfies all of their requirements.
Commenting after his personal demonstration, Mr. Blunkett said "it's really helpful. This is the future and I'm going to have to become familiar with the technology, especially as it's named after me".
Michael Foster MP for Worcester, summing up, said he had been speaking to the directors of Dolphin since he came to office and was also aware of Dolphin's other ground breaking work, creating accessible solutions for people with low vision, dyslexia and print impairments. Mr. Foster expressed delight that such innovative work was happening in his constituency. Mr. Blunkett joked that he had achieved fame at last. Mr. Blunkett said "I have been aware of the reading tools Dolphin has been creating, to assist people who are visually or print impaired, for some time now. Access to information is the right of everybody and I am delighted that a UK company is at the forefront of the digital revolution to provide access to information".