SuperNova Achieves 4 star rating by PC Magazine
Published: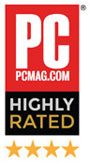 Blind Arabs have another reason to celebrate this holiday season. The prime computer trade magazine, PC Magazine - Middle East and North Africa edition, is featuring SuperNova in the December 2004 issue. The full-blown special review is available now on a news stand near you. PC Magazine technical laps test-drove SuperNova and were impressed by its powerful features to grant is an overall rating of 4 stars out of 5. They even decided to insert a demo disk of the screen reader in every issue of the magazine.
Based on its commitment to raising awareness on the availability of the Arabic screen reader, Nattiq has started a comprehensive public relation campaign to turn the spot lights on this powerful tool which is available to blind Arab users. Middle East based media outlets are responding favorably. Windows Magazine - Middle East featured a full review of Hal in May, 2004. Abu Dhabi Satellite channel aired a lengthy feature on Nattiq and the adaptive technology it offers in the region for the benefit of blind communities. The show aired over 15 times so far.
Blind Arabs benefit enormously from such reviews as expert software testers provide them with professional and expert findings about the effectiveness of this screen reading program. They also feel a sense of inclusion in seeing mainstream trade publications take on a program of interest to them.
Inserting a demo CD in PC Magazine is convenient to those who like to try the software before they purchase it. Instead of waiting for the demo disk in the mail, which may take up to two weeks in some cases, blind Arabs may go to any news stand to obtain a copy of PC Magazine with a free Supernova demo disk.
Additional reviews are scheduled for Hal and SuperNova next year as they continue to gain phenomenal popularity in the Middle East.