Sir Steve Redgrave teams up with Dolphin
Published: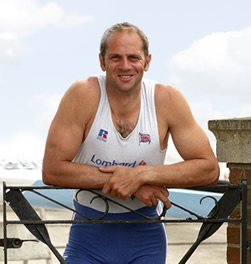 Dolphin Computer Access Ltd is proud to announce that they have teamed up with five times Olympic Gold Medallist Sir Steve Redgrave, who will be endorsing their new range of alt-format products; EasyReader, EasyProducer and EasyTutor.
Well known for being dyslexic, Sir Steve is delighted to have the opportunity to work with Dolphin to help spread the message about its software for converting text into alternative formats. "Reading standard text is only one medium for receiving information, Dolphin's Easy product line could suddenly transform the lives of thousands of people" said Sir Steve.
Noel Duffy Dolphin MD added "Having Sir Steve on board is very exciting. He understands the needs and aspirations of people with dyslexia and vision impairments". He added "disability acts around the world have created new opportunity and entitlement to documents in alternative formats – Sir Steve is motivated to ensure anybody with a vision or print impairment can receive books or information in his or her favourite format".
Dolphin's altformat software has been designed specifically for people with visual and print impairments to automatically convert text into combined audio and text that can be navigated. Sir Steve enthused "Dolphin EasyProducer can transform print documents that are dead and flat into a living, speaking, and colourful communication media. Text can be spoken, print enlarged, words highlighted, background colour added. Once a document has been transformed using Dolphin EasyProducer the world moves from black and white to colour!"
Dolphin's altformat tools Dolphin EasyProducer and Dolphin EasyReader produce DAISY book (Digital Accessible Information SYstem). DAISY is a digital talking book format which combines all of the elements of a traditional audio book, but also includes the written text and images in a single multimedia book.
Dolphin EasyTutor also forms part of the Dolphin Easy range. Dolphin EasyTutor is a reading and writing aid for people with dyslexia. "It really is like having a personal reading and writing tutor. It is always switched on in our house. The Dolphin guys have made it very simple to use – this is very important as many people with dyslexia suffer from short term memory problems, so remembering complicated keystroke configurations can be tricky. My daughter and I use it to read documents. It also helps us with our spelling and grammar when writing documents. She loves it; I wish I'd had it 30 years ago".
Some products are interactive like Dolphin EasyTutor and others like Dolphin EasyProducer can convert text into alternative formats. if you have a print or vision disability Sir Steve believes the case for using these tools is clear cut. "I've seen research from America, which shows that if students with literacy problems are exposed to learning materials as combined audio and text, their exam scores can increase by almost 50%. This is staggering and it's time everyone knew about it".
Dolphin's range of Alt Format, text conversion tools:
Click on the links below for more detailed product information.
EasyProducer - Convert text to DAISY talking books by clicking a button.
Dolphin Publisher - Total DAISY (digital talking book) authoring solution.
EasyReader – DAISY digital talking book player for the PC.
Cicero - Scan documents to audio or Braille.
EasyTutor - Software to help with reading and writing.

Dolphin are pleased to sponsor the altformat.com website; highlighting the importance of providing printed text an accessible alternative to suit the reader.