New! Dolphin Large Print Keyboard
Published: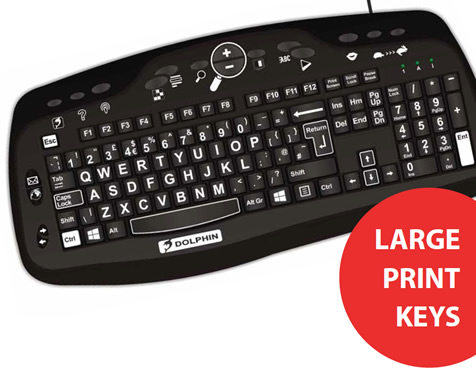 A new keyboard from Dolphin, launches this week at the Sight Village Exhibition in Birmingham.
Designed specially for people with partial sight, Dolphin's new USB keyboard works with standard Windows desktops and laptops and is simple to install. The full-size QWERTY keyboard includes a number pad and features easy to see keys plus dedicated 'Quick Buttons' to magnify and speak your documents and applications with a single press.
"Many people who are partially sighted struggle to see standard keyboards" explains Dave Salisbury, UK Sales Manager with Dolphin. "With the introduction of the large print high contrast keyboard from Dolphin, it is our aim to make letters and numbers easier to find for those starting out. We also want people to have one touch controls to operate SuperNova's screen magnifier and screen reader making it easier than ever for those new to computing."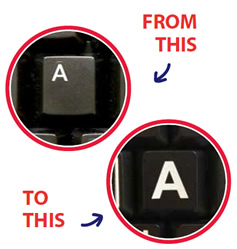 You can start using the Dolphin Keyboard by plugging it into any available USB port on your Windows desktop or laptop computer. Begin typing right away, or launch Supernova with the Dolphin button located in the top left corner.
Improve your accuracy and confidence while learning to type. The high contrast large print letters and numbers are easy to find. But the keys themselves remain a standard size, so moving to the Dolphin keyboard from other Qwerty keyboards is straight forward.
18 dedicated 'Quick Buttons' are arranged in groups around the top and left side of the keyboard. The buttons are shaped making them identifiable by touch. You can: magnify text and images, change colour scheme and select magnification views including split screen, lens or fixed window. The keyboard has buttons to call the Supernova control Panel to change other settings, open Launch Pad to access a popular selection of Podcasts and news feeds or simply get help using your applications.
The Dolphin Keyboard comes with a 12 month warranty and, if you have questions, Dolphin's friendly support team in the UK or US are only a call or email away.
Initially available in UK and US English editions, the keyboard is supplied with Dolphin's SuperNova computer packages, or can be pre-ordered at Sight Village for £35 GBP (a 30% saving off the regular price).
Sight Village is a major European event showcasing technology, support and services for people who are blind or visually impaired. Dolphin will be attending the show in Birmingham UK on July 16 & 17th, admission is FREE.