Making Information Accessible for Arabic Readers
Published: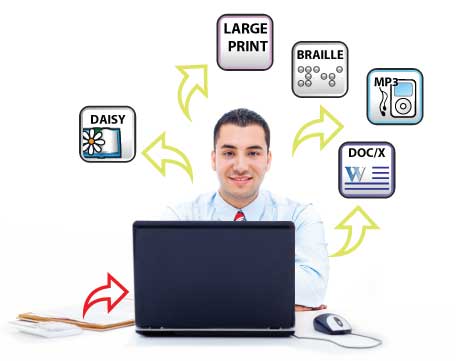 Dolphin EasyConverter, a flexible alternative format creation tool for quickly and easily providing accessible documents for people who experience difficulties reading, can now recognise and convert a wide range of documents written in Arabic.
The new Arabic language support in Dolphin EasyConverter can be used to analyse the text in Arabic PDFs, images, Microsoft Word documents or Rich Text files. A single button then converts this material into customisable large print, Braille or audio formats suitable for Arabic readers who experience dyslexia or sight loss.

Watch our quick 3 minute Arabic video
"It's not only English people with reading impairments who encounter barriers to reading the printed word. Dolphin has worked closely with Sharjah based partner Nattiq Technologies to overcome the particular challenges presented by converting Arabic text into accessible formats." Says Steve Bennett, Dolphin Sales Director.
As well as producing alternative format versions of Arabic documents, EasyConverter's straightforward interface and user settings are also presented in Arabic bringing the total number of languages supported by EasyConverter to 15.
EasyConverter is ideal for Government and commercial organisations, educational institutions, charities, transcription centres, as well as any organisation that have a legal or ethical responsibility to make their information accessible for everyone.
EasyConverter's Arabic options are now available for trial and purchase from Nattiq Technologies in the UAE and Dolphin Computer Access in the UK and include the human sounding Arabic voices from Acapela. Upgrades to include Arabic support are available for exisiting EasyConverter customers.
- END -
Notes

Nattiq Technologies is helping people who are blind in in Middle East to have their tallents recognised and potential realised through the use of specialist products and market leading customer service. www.nattiq.com
Dolphin Computer Access delivers independence by developing and supporting alt format and screen access software for people with vision and print impairments. www.YourDolphin.com