VIDEO: Using a USB camera and the latest version of SuperNova
Published: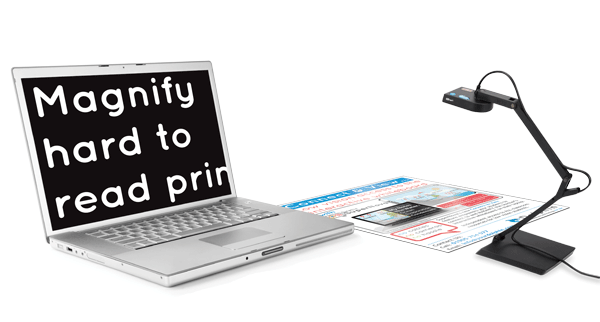 With the new Connect & View feature in the latest version of SuperNova, you can turn your desktop, laptop or tablet into a low cost, portable video magnifier. Simply plug in a USB camera turn on the Connect & View feature in and it's ready to use.
Use your camera to magnify…
• Photographs
• Letters
• Greetings cards
• Labels
• Packaging
• …and more!
If it will fit underneath the lens of the camera, you can magnify it!
With SuperNova 15.03 and a USB camera you can:
Zoom in and out using the buttons on the toolbar or, if you're using a touchscreen device, with a 2 finger stretch or pinch action.
Lock your camera's auto focus for more comfortable viewing.
Rotate your image using the viewer rather than moving the item underneath the camera.
Change the colour scheme by cycling through through a variety of the most popular schemes including invert brightness, high contrast black on white, high contrast white on black, yellow on blue, white on blue and yellow on black.
Use the capture image button to take a picture of the item you're viewing, which can then be saved for future reference. If your picture contains printed text, you can place this into a Word document and read it aloud using SuperNova's "Scan and Read" options.
Read edge to edge using the mouse, keyboard, or your finger (on touch screen monitors) without moving the item underneath the camera.
Adjust the viewing area to suit your needs.
---
If you're an existing SuperNova 15 customer, you can download the update for free!
---