Dolphin Announce Dolphin Guide US Master Distributor at CSUN
Published:
Dolphin Computer Access announce the appointment of a US master distributor for Dolphin Guide and the release of Dolphin Guide version 5 at CSUN, the 24th Annual International Technology and Persons with Disabilities Conference March 16th - 21st, in Los Angeles, CA.
Version 5 extends Dolphin Guide's effortless support for low vision and blind seniors, or other people that want to use a computer, but who struggle with the complexity of the modern computer. Steve Bennett, International Sales Director for Dolphin Computer Access explains.Dolphin Guide Software in a box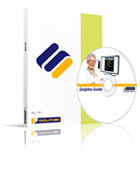 "Dolphin Guide removes the common computing fears and frustrations by presenting a simple menu system that sits on top of Windows, protecting the user from the more complex Windows interface. Users are accompanied by a reassuring human sounding voice that confirms every step taken, and with the option to magnify the screen also, Dolphin Guide delivers an environment in which our users can gain the confidence they need to succeed."
The launch of Dolphin Guide version 5 follows the successful integration of Software Express into the Dolphin Computer Access group following their acquisition in November 2008.
"We are delighted to announce that we have appointed a US master distributor for Dolphin Guide; EVAS was the clear choice given their proven expertise in access technology and their excellent track record of first class customer support. Both are essential criteria for our Dolphin Guide users and were therefore paramount in our decision making."
Jerry Swerdlick, President of EVAS explains why EVAS are so committed to Dolphin Guide.
"We recognise there is a very large proportion of the visually impaired population that have never been taught to use a computer. Yet these people, frequently seniors and baby boomers, want to email their family, write and read their own correspondence and generally maintain their own independence.
We are really excited to be delivering Dolphin Guide to empower our low vision and blind users, enabling them to send and receive email, write and print letters, scan and read documents, browse the Internet, and now with version 5, instant message."
Dolphin Computer Access and EVAS are exhibiting throughout CSUN, March 16th to 21st, in Los Angeles, CA. To try out the new Dolphin Guide version 5 features and the other 20 plus popular computing functions all made achievable with Dolphin Guide, visit the EVAS on booth 224 within the Marriott LAX.
Alternatively you can request a free 30 day trial of Dolphin Guide by visiting the EVAS website.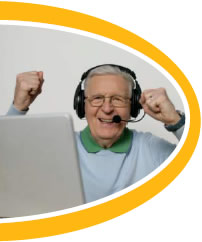 Visit the Dolphin Guide product pages on the Dolphin website.