Guide Receives the CNIB's international Winston Gordon Award!
Published:
The unique potential of Software Express' products have recently been recognised in Canada by the CNIB. On 27th of October 2008, the CNIB presented Adrian Sach, Technical Director, with the prestigious Winston Gordon Award. Guide software competed successfully with other contenders to win in the category of Technological Advancement in the Field of Blindness.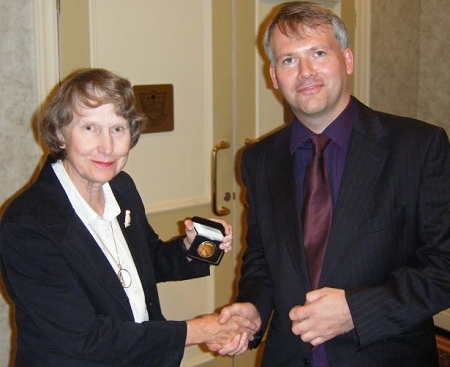 Fran Cutler presenting the award to technical director Adrian Sach
Guide software products were introduced in North America last year, as part of a wider strategy to distribute our products internationally. They have since proved to be a great hit in Canada. The easy-to-use and easy-to-learn design of the software, along with in-built speech and screen magnification, appeal to both the blind and visually-impaired. Users can benefit from many features as this all-in-one package enables them to scan & read, browse the Internet, send emails, listen to Internet radio, and much more! Users can regain some of their independence by having such quick & easy access to computer technology, whatever their ability.
The unique qualities of Guide software have impressed not only the Canadian customers but also the CNIB, the leading organisation supporting people with vision loss in Canada. To acknowledge technological development in the field of visual impairment, the CNIB established the Winston Gordon Award in 1988 and has been rewarding the most successful providers of innovative technology solutions ever since.
Mary McMahon, Managing Director of Software Express commented: "We were delighted to receive the Winston Gordon Award, which recognises innovative technology solutions in the field of vision loss. It also confirmed the unique benefits that our products can offer to those who are blind or visually-impaired. Guide is so easy to use and easy to learn that it is ideal for people who have never used a computer before". She continued, "We are very excited to have the opportunity to distribute our products within the Canadian market and hope that Guide will build upon the success it has had in the UK."