Dave Salisbury - the new UK and Ireland Account Manager
Published: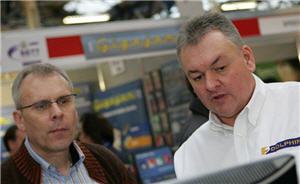 Dolphin Computer Access today announced the appointment of Dave Salisbury as Account Manager for the UK and Ireland. Best known to many people as 'Dolphin Dave', Dave returns to Dolphin's Worcester offices following his previous employment at Dolphin's sales office for more than 9 years.
As a close friend of many organisations and individuals in the visual impairment industry, Dave's appointment to this pivotal customer facing role signals Steve Bennett's ambition to reignite the close working relationships between Dolphin and its software users throughout the UK and Ireland.
Steve said "We are thrilled to have Dave back at Dolphin"
"Dave's extensive product knowledge and great sense of humour, enable him to work with our customers to identify the optimum speech, magnification or Braille solution which will further their independence."
Dave began his Dolphin career in 1998 following a spell at the Foundation for the Communication for the Disabled, now known as Abilitynet. Working on the road for more than nine years, Dave worked closely with specialist charities, large corporate employers and supporting people who are blind or partially sighted in their local area.
In 2007, Dave moved to work for Dolphin's sister company Software Express, now known as Dolphin Computer Access North and the home of Dolphin Guide.
Commenting on his reappointment, Dave said;
"My roots are at Dolphin, and it feels right to be returning to a company that I know puts the needs of customers first. I am really looking forward to working with the loyal Dolphin software users, in addition to meeting some new faces."
To contact Dave Salisbury email dave.salisbury@yourdolphin.com, call 01905 754 577 ext 230 or mobile 07968 562 511.