Thank you to those who helped look for Devon during ATIA
Published:
Last Tuesday during the ATIA exhibition Dolphin's Jeff Bazer's Seeing Eye dog "Devon" got spooked and went missing, when a freak Tornado storm hit Orlando, FL.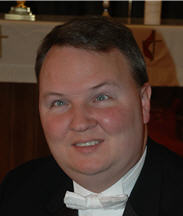 Thankfully last Friday after three days away Devon was reunited with Jeff; "I can't express in words how overjoyed I was to get Devon back after three days of being away. The media, local police and people from the conference were incredible, but I couldn't have kept it together at all had it not been for my Dolphin co-workers; Noel, Steve, Andy and Charlie. They all were willing to do whatever it took to find him. Making you feel like family is certainly the best way to describe their efforts, and it is truly an honor to work for a company who understands the personal side as much as Dolphin does. Thanks to all who were involved, and I hope I never have to go through a similar experience again."
Throughout his adventure Devon had been looked after by a British couple on holiday who found him and refused to leave him out in the storm.

In case Jeff didn't get to thank you personally for helping with the search when he returned with Devon to the exhibition (he tried but they were both mobbed by well wishers). On behalf of Jeff, Dolphin would like to say a big thank you. It truly shows what a great community we live and work in that virtually everyone at ATIA Orlando was either helping to support Jeff during the search or was out looking for Devon.
In particular though Dolphin would like to say thank you to local TV channel WFTV 9 who publicised Devon's disappearance on their local news and the local Kissimmee Police Force, who were brilliant! Not only did they conduct a door to door search for Devon, but they also ensured patrol vehicles and the police helicopter kept their eyes peeled for Devon.