A win for local student Lisa and Guide
Published:
For the second year in a row, a student from Dudley College has scooped an award as part of 'Adult Learners Week'. Lisa Parke, 44, from Dudley has won a 'Regional Learning Award' recognising the new computer skills that Lisa has learnt with Dolphin Guide, despite losing her sight.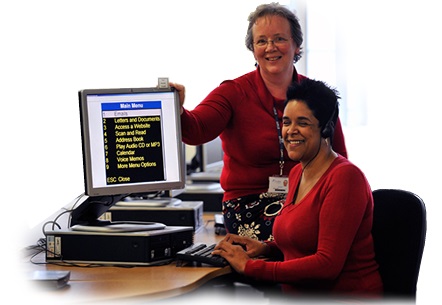 After giving up work following her sight loss, Lisa contacted her local Authority for help.
"They told me about computer courses that used talking computer software for the visually impaired, and soon after I enrolled on a course and met my tutor, Jo Griffin.

"Jo introduced me to Dolphin Guide... I now wouldn't be without my computer as it has opened up a whole new world for me... I have achieved something I'm proud of and have gained new-found confidence."
Ken from Dolphin Computer Access comments, "We're very pleased for Lisa and congratulate her on winning this award. Dolphin Guide is absolutely perfect for learners who have never used a computer since losing their sight and are worried about getting to grips with the keyboard. Everything is broken into simple steps so it is really easy to use compared with other screen reading software".
Lisa will receive her award on May 16th at the Adult Learners' Week Awards Ceremony for the Midlands region.
If you are local to Dudley and would be interested in IT courses specially designed for visually impaired users, please contact Jo Griffin on 01384 363539.
Read about Andrew Main, another Guide user who won the Adult Learners' award last year following a successful course at Dudley College.