USER STORY: Meet SuperNova user Mark
Published: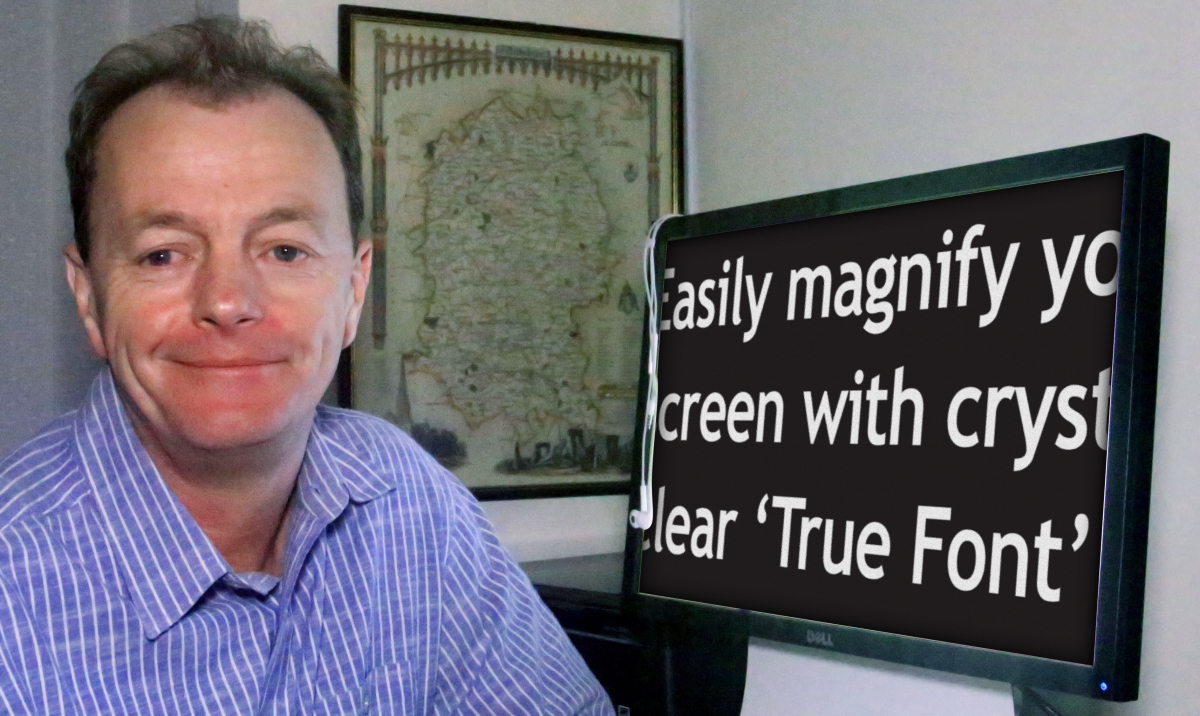 Mark works at Worcestershire Health and Care NHS Trust as an administrative assistant, and uses SuperNova at home and at work. In his job role he reads and sends emails, creates documents and uses Microsoft Office applications; whilst outside of work he surfs the net and books holidays – using his computer in much the same way as other people. Because reading is not an option for him, the speech feature in SuperNova reader is incredibly helpful, and the magnification enables him to see pictures and photos as well as increasing text size for tricky spelling or words.
We spoke to Mark about computers, sight loss and employment to find out more.
Q: Tell us about your sight loss?
A: I started to notice a problem with my sight in the early 1990s, but medical professionals didn't diagnose my condition until January 2011 when I suffered catastrophic sight failure in a matter of just a few hours. I was then diagnosed with a bi-lateral attack of optic neuritis and told that my sight would begin to recover in time although the timescale remained vague. Unfortunately my sight hasn't recovered and I'm registered severely visual impaired/blind. My visual acuity is like looking through grease proof paper.
Q. Were you a computer user before you lost your sight?
A: That's an easy question to answer, I knew how to send emails and surf the internet.
Q. After your sight loss, did you think or know you'd be able to continue using a computer?
A: Definitely not, I thought that life as I knew it was over and I was left with very little insight what the way ahead held for me.
Q. How did you find out about SuperNova?
A: I first came across SuperNova when I first attended a meeting a Sight Concern Worcester and again upon a visit to New College Worcester. My real introduction came at a demonstration day held at Sight Concern Worcester. Following on from that I had a great tutor who taught me how to use SuperNova through Blind Veterans UK (formerly St Dunstans).
Q. Which SuperNova features do you find most useful?
A: The whole package is fantastic but the feature I like most is click and read. This allows me to pick out the areas that I wish to read rather than read the whole document or page.
Q. Did you work at the NHS Trust prior to your sightloss or get the job afterwards?
A: I was already employed by Health and Care Worcester NHS Trust prior to my sight loss.
Q. What changes has your employer made to accommodate your needs (not just computers)?
A: None really, I have always asked about accessibility of course and I always ask for the presentation in hard format prior to the course which up to now has always happened. The Trust also pays for my SuperNova licence for work use.
Q. Are people (colleagues, friends, family) surprised that you're able to use a computer in the same way as a sighted person?
A: Initially yes! I believe that is due to them never having come across the equipment that is available to people who are visually impaired/blind. I do show people how it works with a short demo of main features.
Thanks to Mark for taking the time to chat to us, and share his SuperNova story. Find out more about SuperNova on our product pages.
---
If you'd like to share your Dolphin story with us, get in touch.
---