All go for Anthony with Calibre Audio Library
Published: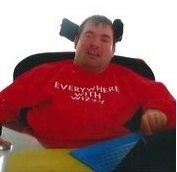 You might remember reading about Anthony and Wizzy's Worm. We featured a story about him here
Anthony has had some great news. Calibre Audio Library has commissioned his book about Wizzy the Electric Wheelchair! It's being recorded in the next couple of weeks and will then be available for children to listen to via Calibre's Audio Book service.
Anthony's going to keep us updated, so we look forward to hearing more about it.
If you have a story to share around how you use Dolphin products, we'd love to hear from you so please contact us.