CERTAM Evaluate SuperNova Magnifier & Screen Reader 16.05
Published: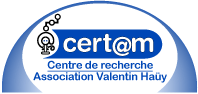 Last month French evaluation centre CERTAM reviewed SuperNova Magnifier & Screen Reader. Experts in the evaluation of high tech products for people with visual impairments, they clearly put SuperNova through its paces! The 14 page evaluation report is now available to view on the CERTAM website, but for readers that aren't fluent in French, we've translated the highlights for your perusal.
CERTAM noted SuperNova's strengths as:
The ability to use multiple computers without installation with the SuperNova USB
Text smoothing at high magnification levels
Ability to scan (OCR) documents from multiple sources, a scanned document, a PDF or image file and automatically open the result in Word
Use of a camera or a webcam connected as a video magnifier system.

A "Whiteboard" feature for educational environments, for sharing a screen to other computers

The abundance of customisation options for both magnification and screen reader

The integration of quality voices

Item Finder for displaying and fast browsing of links, titles, revisions, misspelled words, etc.

Numerous options to improve the visibility of moving elements on the screen such as the mouse pointer, input cursor, current line, current focus ...

Reading with braille tracking of digital books and access to online libraries (mainly in English)

The easy access to web tools: RSS feeds, web radio, etc

When reading documents, numerous options for checking text formatting

Context sensitive help with the option to add notes

Custom settings related to a user profile, an application, a situation ...
CERTAM concluded their evaluation saying...
"SuperNova has an impressive number of settings and its advanced customisation capabilities allow it to be fine-tuned to the needs of the user and/or the context of use. These features are interesting for both private and professional use, as is the SuperNova USB for multi-user use, or the Enterprise version for Citrix environments."

"One of the main assets of SuperNova seems to be the integration of the magnification and screen reading functionalities within a single interface."