CSUN AT Conference Schedule available as a DAISY Book with EasyReader
Published: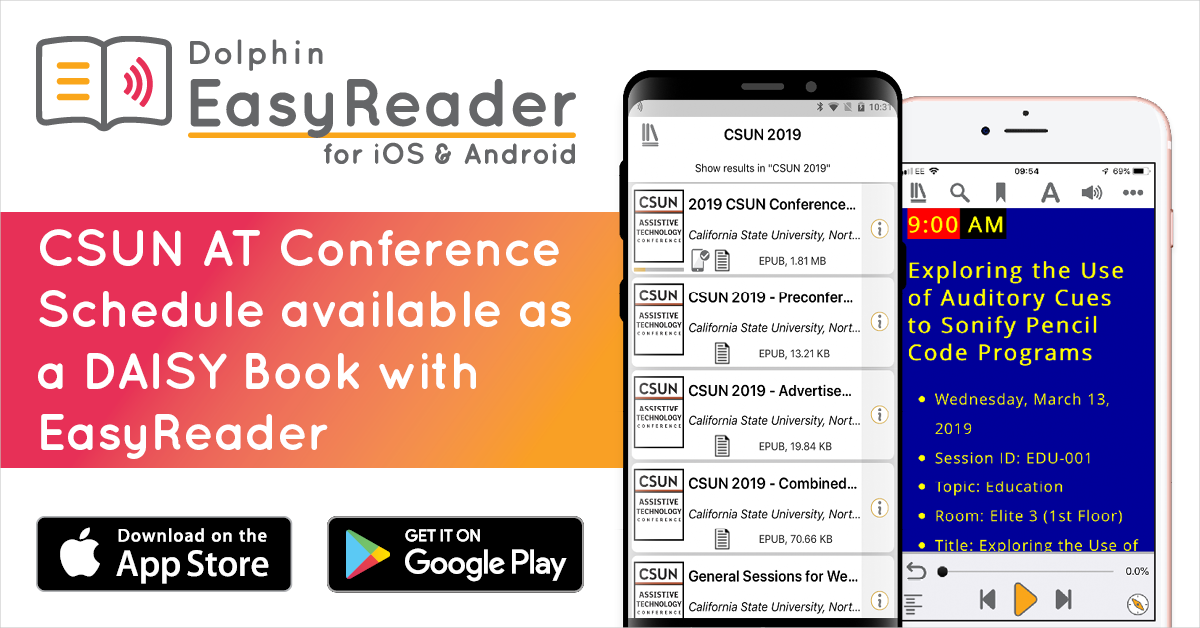 The CSUN 2019 Assistive Technology Conference is now open, and the Dolphin team will be in attendance later this week. Find us on booth 303 alongside our US distributor Irie-AT Inc.
You can now download the Conference agenda and accompanying information as a DAISY book with free EasyReader, the World's most accessible reading app.
What information can you download?
Session information for Wednesday, Thursday and Friday
Speaker index
Directory of exhibitors
Conference quick guides
Advertisements
Pre-Conference materials
Restaurant information and menus
Why use EasyReader to download this information?
Designed for readers with dyslexia, low vision or blindness
Fully accessible
Easy navigation
Text and audio to suit your requirements
Full Conference agenda, materials and directory in your pocket/on your phone
To get the Conference information on EasyReader follow these simple steps:
Step 1: Download the Android or iOS App
Free EasyReader is available on iOS and Android from The App Store, or Google Play.
Step 2: Click the 'Books' Icon Located at the Top Left
Once you have clicked on the 'Books' icon, you will see 'My Books'. To read please select 'Manage libraries', navigate to the new library CSUN 2019 and select 'On'. The Conference programme and 14 other Books are available to download and read at your leisure.
Step 3: Add the CSUN Schedule
Choose 'CSUN 19' and then add the sections/'Books' that you want to have readily available. Choose a section/'Book', select the 'Download' icon and it will be added to 'My Books'.
EasyReader, a better way to read
Find out more information about Dolphin's EasyReader.
Find out more about DAISY.