Read PDFs downloaded from RNIB Bookshare with EasyReader
Published: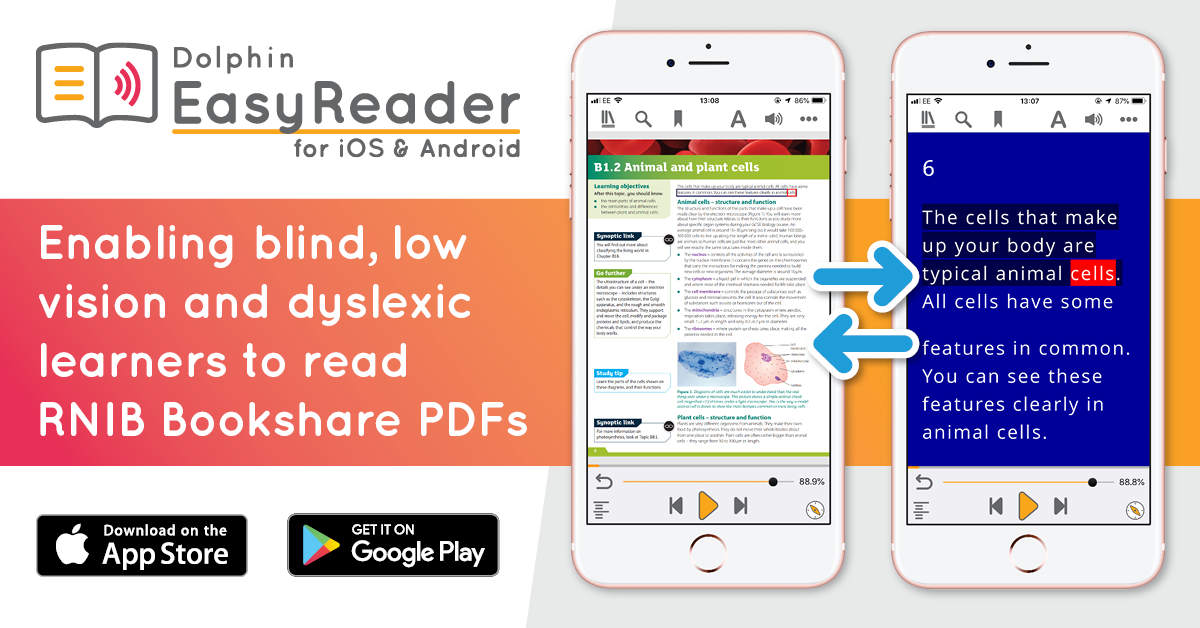 Students and pupils with dyslexia, or who are blind or partially-sighted, frequently struggle with print books and inaccessible apps. To empower students to independently read and learn, free EasyReader now provides reading support for PDF titles downloaded exclusively from RNIB Bookshare, a service that provides curriculum materials in a range of accessible formats for learners with sight loss and dyslexia.
Teachers are able to easily assign PDF textbooks from the free RNIB online resource, to the reading lists of pupils with print disabilities. Children and students can then use EasyReader to download and read these titles in the way that best suits them.
Depending on their sight and preferences, readers can choose from two options:
The first option is where EasyReader reads the PDF in its original print layout. This is ideal if pupils have some sight, but want to listen to the words and see the pictures or diagrams.
The second option is to read the PDF in EasyReader's text view mode. This option allows pupils to focus on the text. All the text in the PDF is reflowed into one simple stream, which can then be read with high contrast colours and natural sounding voices. In addition, readers can also enlarge the text and change colours or voice speed.
Furthermore, blind students using VoiceOver or TalkBack can also have full access to PDFs in Text Only View mode.
Finally, reading position is now stored to the EasyReader Dolphin Account, so the learner is always in control. If a student has the same title on two or three devices and switches between them, EasyReader starts reading the book exactly where they left off.
David Clarke, Director of Services at RNIB, said: "We're delighted that curriculum materials from RNIB Bookshare will be available through EasyReader. It is vital that children with a vision impairment and dyslexia are able to read and learn independently. The options available through EasyReader mean that pupils across the country will be in control of their education, and with over 225,000 titles available through RNIB Bookshare, we can open up a new way of learning for schoolchildren with print disabilities".
Watch the video:
.
Free EasyReader is available on IOS and Android from The App Store, or Google Play.
EasyReader, a better way to read PDFs.
Find out more information about Dolphin's EasyReader on the website.
Find out more about RNIB Bookshare on the website.