Free update for all Guide 9 customers
Published: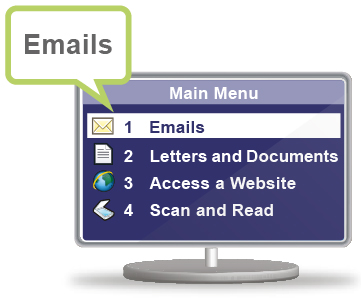 Reading web pages and watching catch-up TV is easier with the free Guide 9.03 update.
New in Guide 9.03:
Catch up with your favourite BBC television shows in Guide's web browser with BBC iPlayer.
Keep email addresses private when sending messages to multiple recipients with the new option to "BCC".
Browse the web in greater detail and at your own pace by speaking individual letters and words.
Reading PDFs is easier now they are opened by Guide's web browser.
Print envelopes with multiple addresses from your Guide address book - ideal for Christmas cards.
Read more about what's new in Guide 9.03.
Update today
Guide 9 customers can update using Guide's 'Check for Program updates' feature. From Guide's main menu, simply:
Press 9 for 'More menu options'
Then press 8 for 'System settings'
Then select option 8 for 'Check for Program updates'.
Guide will now provide the option to update to the latest version. The update will take approximately 10 minutes to download. Once the update has downloaded, go back into 'Check for Program updates' and follow the instructions to install the update. Once Guide has updated to the latest version, your computer will automatically restart.
Not upgraded to Guide 9 yet? Try Guide 9 for 30 days by downloading a free trial from www.DolphinGuide.com, or call Dolphin's friendly team on 01905 754 577 to request a trial CD.