Winner of the Seeing Ear creative writing competition
Published:

Last year Dolphin were proud supporters of The Seeing Ear creative writing competition; aimed at under 18s with a print disability.
The judges read all the entries and deliberated over poems and short stories, before choosing the winner - 14 year old Andrew Pettigrew.
Andrew attends the Royal Blind School in Edinburgh. He has a bionic ear and a visual impairment that means he reads Braille; although he can sometimes read embossed print. He loves writing poetry and very long stories, and is currently working on a crime-and-romance thriller. He also plays the drums and is learning piano.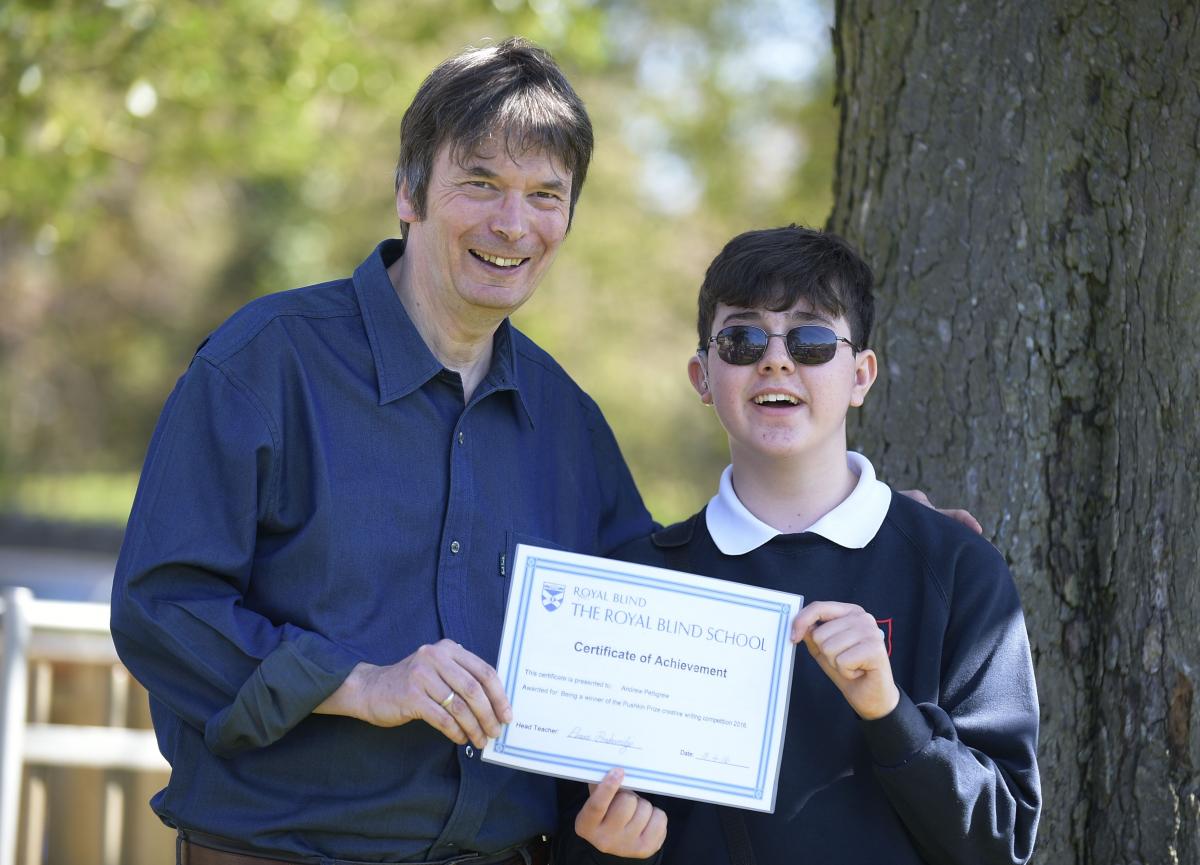 Andrew's winning poem - entitled Who is my Hero? - was inspired by the autobiography of Louis Braille. The poem has bought him other successes; he was invited to read it at the Scottish Parliament during National Braille Week and it's also been published in three magazines.
As the winner, Andrew was invited to choose a product from Dolphin's software range. After consulting with his parents, Andrew chose ScreenReader, due to the Braille display compatability. We popped a disk in the post, and off it went!
Scottish writer Ian Rankin, OBE, presented Andrew with his winner's certificate.
And here is Andrew's winning poem!
Who is my hero?
I did know not yesterday.
However now I am certain,
that this hero will forever stay.
Though I've never met him,
he made my path clear,
a path to succession,
a path that will always be there.
Though troubled times break my heart,
snuffs out my inner candle.
When my eyesight and my hearing,
are far too much to handle.
Then the light flickers,
the sun shines once again;
and the joys of reading and writing,
will always make me sustain.
For though I have courage,
though I have imagination;
sometimes it proves hard,
to keep my determination.
And still my hero calls me,
still I follow in his tracks.
He makes the barriers fewer,
as the knowledge stacks.
I write my tales,
I write my songs;
to encourage my friends, my family,
to help them get along.
By friend and by family,
I mean it true in mind;
by friend and by family,
I mean the fighting blind.
Though some I have not met,
I will never truly forget,
that we're going through the same,
with no clear accusation of blame.
We fight for independence,
we fight to kill the tenseness,
that, like a flame, always grew,
the tension between us blind and sighted you.
A love for freedom,
a love for books;
a desire for inner self,
and not a care for looks.
Never mind the clothing,
never mind their disability;
just remember their mind,
or their lovely personality.
For, without dislike in our vains,
then no changing in our brains;
no war, no fight,
no difference, like no sight.
And through the struggle,
we must make the rest realise,
that we're all the same,
gender, colour, ears or eyes.
And who is my hero?
the hero I followed in his trail?
a man who was both kind and wise,
a man who at only three lost his eyes;
is, without doubt, without question,
without a lingering stop or hesitation,
Louis Braille.
---
Well done Andrew, and enjoy using ScreenReader!
---