Reg evaluates GuideReader Tablet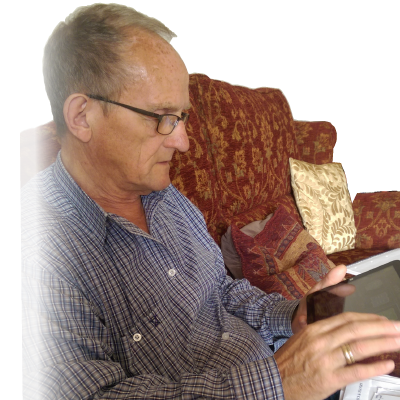 As a retired buyer, Reg is a tough audience with an eye for quality. But it seems GuideReader rose to the challenge when Reg put it through its paces.
In his 70s and registered blind, Reg describes himself as "a very positive person, but not the most technically confident!" With only limited light perception and never having used a touchscreen device before, Reg felt a little apprehensive at first, but it seem things went swimmingly.
"The voice is really good – really clear. It's so easy to start & stop reading your book, or skip through chapters etc."
"You can either sit the tablet on your lap and you don't even notice it's there. Or you can use the stand and sit back with the remote control that's included."
With just 4 touchscreen buttons that sit naturally under your thumbs, GuideReader is far simpler to use than most mainstream tablets. Plus there's no shortage of titles to read:
"With direct access to thousands of audio books, GuideReader really is a very attractive proposition."
"GuideReader Tablet is a remarkable piece of kit; a significant step forward opening up a new world of access to books for blind people."