Sandra reads to her grandson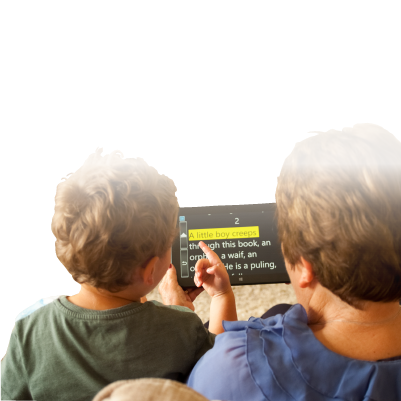 "Apparently I'm not quite so old now - well according to the grandkids!"
Sandra was diagnosed with macular degeneration in 2010 and her sight is evolving on an almost daily basis.
"I wake in the morning and my first thought is 'What's changed?' I chose GuideReader because I knew that wasn't going to be a problem. I can make the book text as large as I need it and I can change the colours to maximise the contrast for me."
"The book audio is impressive too. Most of the time I listen sitting on the sofa, the GuideReader on its stand. The remote's a godsend; unlike some other blindness reading devices that I tried, I'm not stuck at my desk."
"Being a tablet user has definitely changed the grandkids' perspective too. Even though GuideReader is so easy to use, they've seen me in a new light."
"The littlest is only 2 years old, but we get to read together now. Reading books is something Nanny couldn't do before, but that's all changed now. In fact according to him, reading with Nanny is more fun than reading with anyone else!"