EasyReader for iOS and Android Features

---
Audio Books - Just How You Like them!
---
Playback with Synchronised Highlighting
Follow along as EasyReader reads your book with highlighted text, perfectly synchronised with the book's audio. Use the play button to start and pause reading or for convenience, a two finger tap. EasyReader plays your book using either the human narration included or, if it's a text only book, EasyReader can add speech; skip forward or rewind; pause; or adjust the reading speed to suit you.
Huge Choice of Reading Voices
Your EasyReader app gives you immediate access to all the voices bundled on your phone. Choose your favourite and use that voice to add speech to a text-only book, read your newspaper or announce outloud text you've copied to your clipboard. Looking for something that sounds a bit different? No problem. Buy a voice in-app; there are dozens to choose from in dozens of languages.
Pronunciaton Lists
If your favourite voice announces a word incorrectly, you can train it do better next time. EasyReader's Pronunciation feature lets you teach EasyReader how to say that word correctly - ideal for lesser known towns, or experts reading books with specialist vocabulary.
---
Text Fonts, Colours, Sizes and Spacing
---
Adjust how your book looks so reading is always comfortable. EasyReader's intitutive touchscreen gestures are perfect for making changes on the fly. Or use EasyReader's text settings option to make specific tweaks:
Text size
Need large print? No problem. You can make the book or newspaper text as large as you need it. When your eyes start to tire, pinch to zoom on the touchscreen and increase the text size.
Colours
Select one of the pre-made colour themes designed users with varying visual requirements from high contrast for partial sight through to low visual stress, for people with dyslexia. Or create your own colour scheme selecting colours for the text, background, sentence highlight and word highlight.
Fonts
Stick with your book's font or pick one that suits your sight. EasyReader includes a range of popular and dyslexia friendly fonts. Adjust the letter and line spacing to ensure the text is easy to read.
---
Book Navigation
---
Skipping through your new book is effortless, thanks to EasyReader's intuitive search and navigation features:
Play, Pause, Next & Previous
Starting or stopping your book couldn't be simpler. Tap the play or pause button or tap anywhere on screen. Next and Previous buttons skip you forward or backward. You can even adjust how far you skip using the navigation mode feature. Use the progress slider to fast forward or rewind with ease.
Headings and Pages
Jump to a specific page or chapter in your book with EasyReaders' simple Book Navigation options.
Add a bookmark
If you want to return to a page in your book, add a bookmark! Write a note or record your spoken thoughts as an audio note. Search or quicky jump back to your bookmarks at anytime.
Search
Looking for a specific word or phrase? Type your term in the handy search bar and EasyReader will open a list of all instances of that phrase. Make your selection and EasyReader will jump you directly to that location in your book.
Sleep Timer
Add a timer and EasyReader will automatically stop your book's playback after the amount of time you set.
---
A Better Way to Access your Favourite Book Library
---
Enjoy direct access to browse, download and read from your preferred accessible book libraries. You'll only ever need them once, but don't forget to have your library login details handy!
Bookshare® (US)
RNIB Bookshare (previously know as Load2Learn) (UK)
CELA (Canada)
Legimus (Sweden)
Inläsningstjänst AB (Sweden)
NLB (Norway)
Nota (Denmark)
Vision Australia (Australia)
Passend Lezen (The Netherlands)
Anderslezen (Belgium)
SBS (Switzerland)
KDD (Czech Republic)
DZDN (Poland)
LKF (Russia)
ePubBooks (All languages, no login required)
Project Gutenberg (All languages, no login required)
---
More than just books...
---
Newspapers - fully accessible and delivered to your phone
Subscribe to an accessible newspaper service? Login just once and EasyReader will deliver your favourite local, national or international newspaper directly to your phone or tablet. The following newspaper services are supported:
Bookshare® Periodicals (US)
NFB-NEWSLINE® (US)
RNIB Newsagent (UK)
MTM Taltidningar (Sweden)
NKL (Finland)
Passend Lezen (The Netherlands)
ATZ (Germany)
Copy & Read Text
Copy text from anywhere on your phone or tablet and EasyReader will read it aloud for you. Add the words to 'My Clipboard Text' and press play. EasyReader will anounce the text using your device's inbuilt speech sysnthesiser. Stop, pause, skip forward, alter the text fonts, size, colours and audio settings - you have the same bespoke control with your clipboard texts as a fully published audio book. Plus you can add, save and delete as many Clipboard texts as you need.
---
Explore EasyReader
---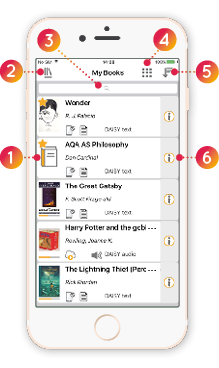 Everything about EasyReader is intuitive and easy to use. And because EasyReader is all about reading, you'll find you use My Books and the book reader the most:
My Books
My Books is what it says - a list of your downloaded or available book titles:
1. Book Cover - Tap to open the book.
2. Side Menu - Find a new book or newspaper to read from a library or open a clipboard text to read.
3. Search - Search your My Books list for a title you have already downloaded.
4. List/Tile View - Choose to display your My Books list as either a list or as tiles.
5. Sort - Sort your My Books list by title, autor or most recently read.
6. Book Information - Find information about the book, such as the title, author, format, size and a synopsis.
Book Reader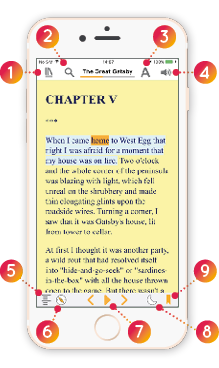 This is where your book appears and includes a number of options to browse or read in comfort:
1. Side Menu - Find a different book or newspaper to read from a library or open a clipboard text to read.
2. Search - Search for a word or phrase in the book.
3. Text settings - Change text settings, including the font, text size, spacing, colours and more.
4. Audio Settings - Change audio settings, including the voice, reading speed, pronunciation and more.
5. Book Navigation - Open a list of headings, page numbers and bookmarks.
6. Navigation Mode - Choose how far the previous and next buttons skip in the book.
7. Play - Play and pause the reading voice. Use the Next and Previous buttons either side to skip forward and backwards.
8. Sleep TImer - Set a timer for EasyReader to stop reading after 15, 30, 45 or 60 minutes.
9. Add Bookmark - Add text or recorded notes to remind you about particular sections of the book.