Chapter 3: Reassign a SuperNova hot key
15. Hot Key Conflicts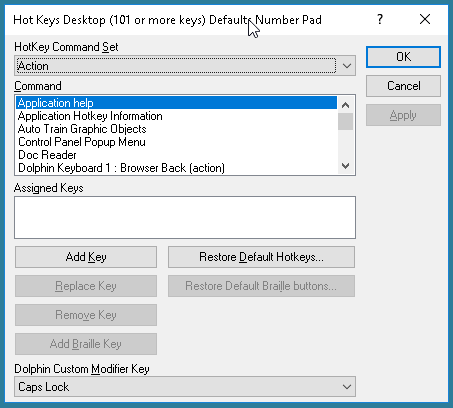 You can add, delete or reassign any SuperNova hot key. You can do this to resolve hot key conflicts between SuperNova and your application or to change a hot key command to a key combination you find easier to use. To do this:
Press LEFT CONTROL + SPACEBAR. The SuperNova control panel opens.
Press ALT + G. The General menu opens.
DOWN ARROW to Keyboard and Hot Keys and press ENTER. A submenu opens.
DOWN ARROW to Hot Keys and press ENTER. The Hot Keys dialog box opens.
TAB through, using the Hot Key Command Set list and Command list to select the assigned hot key you want to change.
Use the Add key button, Replace key button or Remove key button to change the hot key.
TAB to the OK button and press SPACEBAR.
SuperNova confirms the changes and closes the dialog box.
Tip: If you find it hard to locate hot keys from the categories and commands available, use SuperNova Key Describer to help.