Chapter 8: Font Smoothing and True Fonts
6. Visual Effects - Making the screen easier to see
---
Menu: Visual > Advanced Options > Magnifier
---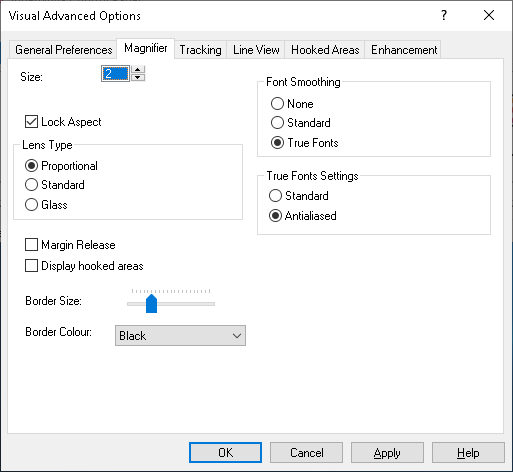 Font Smoothing Options
Font smoothing improves the legibility of the text on the screen when you use magnification. Options include:
Choose "None" to turn off Font Smoothing.
Choose "Standard" for basic font smoothing. Use this option if you are experiencing performance issues using True Fonts.
Choose "True Fonts" for perfect clarity at all magnification sizes. You may wish to experiment with the True Font Settings if you are using a magnification size of 3x or lower or you are using an LCD monitor.
You can switch between "None", "Standard" and "True Fonts" by using a SuperNova hot key.
Magnifier Hot Keys
| Function | Desktop - Default NumPad Set | Laptop - Universal Set |
| --- | --- | --- |
| Font Smoothing | LEFT CONTROL + NUMPAD 8 | No Assignment |
True Fonts Settings
Using "Standard" renders text in a non- antialiased mode. This is the default and fastest method, especially when using a magnification size of 4x or greater.
Antialiased radio button.
This setting renders the text and smooth's the text edges. If you experience jagged effects using True Fonts at a low magnification size then you should select this option.
Note that True Fonts is unavailable if you are using a different vertical and horizontal magnification ratio. You can independently change the vertical and horizontal magnification size by deselecting the "Lock Aspect" check box in the "Visual Advanced Options" dialog box.