FREE Webinars: Free Accessible Textbooks for students with ASD, dyslexia, ADHD & Visual Impairments
Published: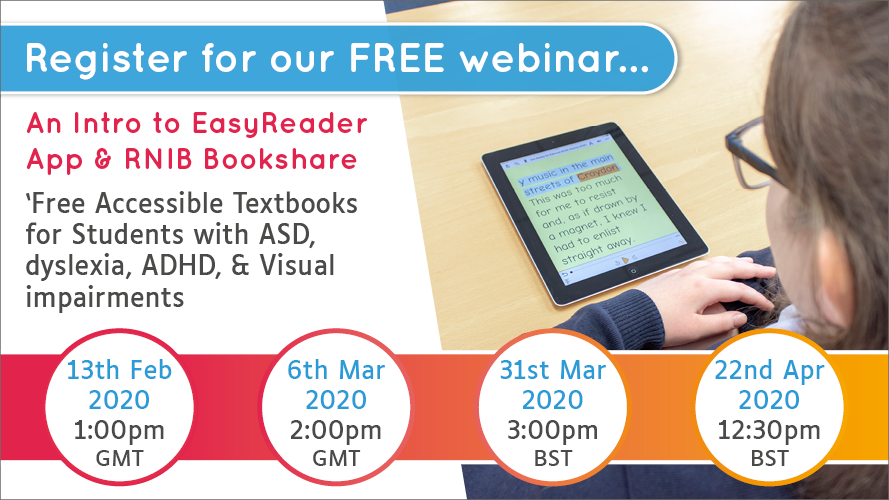 If any of your students have ASD, dyslexia, ADHD, partial sight or blindness then these short webinars are for you!
Print textbooks prevent many SEN learners from successfully accessing the curriculum. Imagine if you could offer your disabled learners access to electronic copies of their textbooks? And an app that lets them change the books' fonts, sizes, colours? Even better the app could read the book aloud to them?
Any of these webinars will show how you can do exactly all that - and it's all FREE to education!
RNIB's Stacy Rowe and Dolphin's Steve Bennett will jointly introduce and demonstrate the 2 parts of the reading puzzle. Firstly signing up to RNIB Bookshare 'Education Collection' of more than 420,000 textbook in electronic formats - a free service for anyone in British schools, colleges & universities that are supporting learners with print disabilities.
Secondly the free EasyReader app that empowers disabled students to download and read their textbooks in a way that suits their disability and their learning style. Large fonts. Dyslexia friendly font. Different font colours. Switch the background colour. Hear the book read aloud. Listen and read along, following the highlighted word.
This short webinar will answer the following questions:
Which students can use RNIB Bookshare?

What text books are available?

Where do I get the free EasyReader app?

How does EasyReader support my dyslexic students?

How does EasyReader support my visually impaired learners?
---
Register for a webinar date that suits you:
---
Webinar: Free Accessible Textbooks for students with ASD, dyslexia, ADHD & Visual Impairments
Date: Thursday 13th Feb 2020
Time: 1pm GMT
---
Webinar: Free Accessible Textbooks for students with ASD, dyslexia, ADHD & Visual Impairments
Date: Friday 6th March 2020
Time: 2pm GMT
---
Webinar: Free Accessible Textbooks for students with ASD, dyslexia, ADHD & Visual Impairments
Date: Tuesday 31st March 2020
Time: 3pm BST
---
Webinar: Free Accessible Textbooks for students with ASD, dyslexia, ADHD & Visual Impairments
Date: Wednesday 22nd April 2020
Time: 12.30pm BST
---