Guide Benefits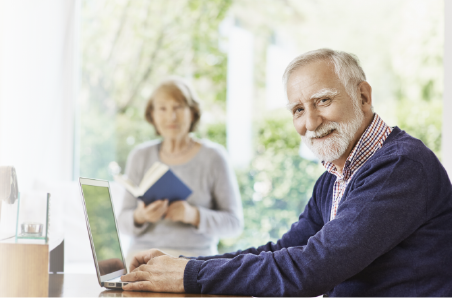 ---
Designed for Sight Loss
---
Fully Accessible
If your sight is deteriorating, Guide can evolve with you, supporting you every step of the way.
Guide's talking menus are refreshingly simple and totally accessible. Specifically designed to support people with sight loss, friendly human sounding voices read aloud Guide's menus and instructions. Partially sighted people can zoom in so Guide's menu options become larger and easier to see. Choose high contrast colours that suit you, and you've got crystal clear menus that are read aloud for added confidence.
A Keyboard that's Easy to See
Include the Dolphin keyboard for large print keys that are easy to see. White letters on a black background ensure the highest contrast. Explore and use the quick buttons and you've got speedy access to mute the speech, zoom in for more detail and find help. All the quick buttons are large and of varied shapes, making them tactile and easy to locate by touch.
---
What can you do with Guide?
---
Keep in touch with friends & family
Guide makes staying in touch with loved ones easy and fun:
Send emails - Sending and receiving email is so simple with Guide. If you prefer not to type, use Guide to record your own voice memos and send by email!
Make calls - Use Skype with Guide to make free telephone calls over the Internet.
Browse the Internet
Discover a world of information on the Internet. Find information, book your holiday, or research your family tree. Guide makes using the Internet easy; with just four keys on the keyboard, you can read any web page! It's that easy!
Be inspired to Read More
Regain your independence – Guide will 'scan and read' your post or other print documents. Magnify the text up bigger or sit back and listen as Guide reads aloud.
Read the latest news headlines delivered direct to your computer.
Or rediscover the joy of reading - dip into a good book from your favourite author (or discover a new one). Guide offers fantastic reading choice with unlimited access to hundreds of thousands of talking books and magazines.
Keep Yourself Organised
Write and print letters to friends, family or organisations.
Stay one step ahead; you can use Dolphin Guide to set appointments and reminders in your calendar, plus store postal addresses, telephone numbers and email addresses with Guide's Address Book.
Entertainment when you Need it
Listen to the radio & discover podcasts from around the world.
Use the BBC Radio Listen Again Player and enjoy any BBC radio show from the past 7 days*.
Build keyboard confidence with Guide's Typing Tutor.
Play word and number games just for fun.
* The BBC Listen Again feature is only available to UK customers. The Typing Tutor and games are only available in English language versions of Guide.
---
Setup & Personalised Just for You
---
Choose to buy Guide as a complete package, and we'll take the strain out of setting up your new computer. Whether you choose a lightweight laptop or desktop PC with extra-large screen, we'll make sure everything is fully set-up and personalised just for you. No email address? We can set you up an email account, so when you receive your Guide computer, you can just switch it on and send your first email.
---
Bespoke Training
---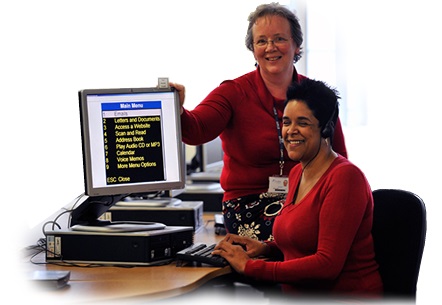 Includes 1 hour free Telephone Training (UK customers only)
Guide includes an hour of personal phone based training. Ideal to familiarise yourself with the basics in the first few days, this 1 to 1 session can cover your first Guide questions, sending and receiving your first emails or even a handheld tour of the internet.
Additional Training Available
As you continue to use Guide, we know you'll have more questions. You might decide to book some additional telephone training sessions. Alternatively you may prefer to book one of our Accredited Guide trainers to come to your home.
---
We're Here to Help
---
Comprehensive Product Support
Guide comes with free support available by email and telephone. Contact our friendly support team and we'll help you with Guide or support you to resolve a problem when something in Guide isn't working as you'd expect. With your permission, we're even able to see your screen to provide better support in certain situations.
Support Materials, to Suit your Sight
Listen to Guide's getting started audio guide on your CD player or computer. Watch 'how to' videos or try a tutorial. Plus all of Guide's information is available in large print, Braille or audio.
Join a Community of Fellow Guide Users
Share tips or get advice from other Guide users in the Guide forum – ideal for when you get a question about Guide late at night.