EasyReader for Windows Benefits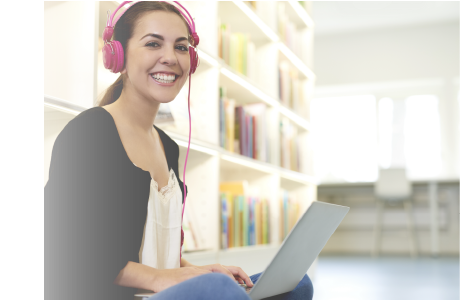 ---
Play, Read and Follow with Synchronised Text & Audio
---
Reading a Pleasure
Hate reading? Not any more! EasyReader makes reading a pleasure. No more struggling or straining to read the small print. Relax as EasyReader plays your book aloud; follow as the text appears on screen, perfectly synchronised for total comfort.
---
Designed for Dyslexia with Proven Results!
---
Read with your Ears!
Listen to your books, newspapers and wider learning materials. Synchronised audio and highlighted text focusses your attention and builds your understanding. If your book doesn't come with audio, EasyReader can play with your choice of human sounding voices.
Proven 71% Improvement in Reading!
The UK Department for Education's Accessible Resources Pilot found that 71% of dyslexic students improved with their reading, thanks to synchronised text and audio book access.
Total Control
Just like other audio devices, EasyReader puts in total control. Rewind. Pause. Slow the voice speed to a pace that suits you. Headphones or loud and proud!
Dyslexia Friendly Fonts and Colours
Choose from a range of dyslexia friendly fonts and colours that suit you. Tweak the text size, letter spacing, line spacing, margins and more, so that sentences don't blur together.
---
Fully Accessible for Students with Visual Impairments
---
Keyboard Accessible
Universally accessible, EasyReader can be controlled directly from the keyboard. Use the handy shortcut keys to skip directly to parts of your book or within EasyReader. EasyReader is compatible with both SuperNova and JAWs screen readers.
Zoom in and Out
Need the book text larger? Zoom in for larger, crystal clear text in a font that works for you.
High Contrast Colours
Ensure reading is always comfortable - choose high contrast colours that suit your sight. Add a text highlighting in an additional colour and you'll never miss a word!
---
Instant Access to the Largest Supply of Textbooks
---
Millions of Textbooks at Your Fingertips
Thanks to EasyReader's direct access to more than 15 libraries, there are thousands of titles to choose from. Plus they're all fully accessible! Browse by title, author, genre and more.
Direct, Hassle-Free Access to your Favourite Book Libraries
Access books fast and direct from your favourite book libraries. No more scouring websites. No juggling files from one location to another. Browse and read books from:
MTM Legimus (Sweden)
Inläsningstjänst AB (Sweden)
NLB (Norway)
Nota (Denmark)
NLS BARD (US)
Bookshare® (US)
Load2Learn (UK)
CNIB (Canada)
Vision Australia (Australia)
Passend Lezen (The Netherlands)
Anderslezen (Belgium)
SBS (Switzerland)
KDD (Czech Republic)
ePubBooks (All languages)
Project Gutenberg (All languages)
Newspapers and Magazines too!
Access magazines and newspapers too. Browse and read from:
RNIB NTNM (UK)
MTM Taltidningar (Sweden)
NFB-NEWSLINE (US)
NKL (Finland)
Reads Almost Anything!
Why stop with books? EasyReader will read most things, including your Word documents. Or copy and paste text from anywhere and EasyReader will read it back to you, complete with synchronised text and audio. Let EasyReader take the strain!
---
Windows Tablet, Laptop or Desktop - Choose the best device for your student
---
Choose the Windows device that best suits your student and their studies. Laptop, tablet or desktop, EasyReader works with them all.