FAQs
Logging in
---
Q: I recently downloaded the EasyReader app on my iPhone. It asked me for my Dolphin ID. As a licensed SuperNova user do I already have a Dolphin ID, or do I need to create one in the EasyReader app?
A: You need to create a Dolphin ID in the EasyReader app.
Q: I downloaded the EasyReader app and created a Dolphin ID three weeks ago. At the time I didn't realize that I needed to activate my Dolphin ID by responding to a verification e-mail. Having now figured that out, how do I get my account to activate? The EasyReader app won't let me create a new Dolphin ID because it says that my email address is already in use.
A: Instead of trying to create a new Dolphin ID try logging in with your existing Dolphin ID (even though it wasn't confirmed/activated). EasyReader should then tell you that your activation has expired and then send you a new confirmation e-mail. When you receive the new confirmation e-mail click on the activation link within it in order to activate your account. Once you have done this go back to EasyReader and try logging in again.
Q: I recently opened a Dolphin ID account for the EasyReader app but never received a verification e-mail. I don't want my account to stop working. What can be done?
A: Please check your spam folder as the verification e-mail often ends up there.
Q: I work in a special needs classroom and would like to use the EasyReader app on their iPads. I tried to open a Dolphin ID account but our school's spam filter is liable to block any verification e-mails.
A: You can either ask your school's I.T. Department to add a rule to your school network's spam filter for e-mail coming from @yourdolphin.com, or else sign up for a Dolphin ID using a web-based e-mail service like Gmail, Hotmail, or Yahoo.
Q: I'm a learning resources teacher and I'm trying to access the CELA library for my students with learning disabilities. Do they have to individually sign up for a Dolphin ID? Do you have any suggestions on how I can get around this issue? I have approximately 20 students who need to access books on their iPads at the school and at home and I need a simple way to do this.
A: Currently they will each need to create a Dolphin ID account because in the future your Dolphin ID will allow you to synchronize your books, your bookmarks and your preferences across all of your reading devices.
Q: When the EasyReader app starts up there's no login option for me to access my CELA books.
A: Once logged into the EasyReader app using your verified Dolphin Account, you can then download books from the CELA library by going to "My Books" and select the option "CELA Library". Please login with your CELA Library login details.
Q: I've created a Dolphin Account and now when I try to log into the my library using the Dolphin Account I receive an error message. Do I need a separate username and password to access the my library?
A: Yes, you need a user account at your library. Please contact your library for all questions related to your library login.
Q: I'm trying to setup the EasyReader app on my iPhone. I don't know what to use for my username. Do I enter my Google username?
A: For creating a Dolphin Account, you press the "Sign Up" button and then enter your e-mail address that you have access to. Please note that a Dolphin Account verification e-mail will be sent to you and you need to click on the link to verify your new account.
---
Downloading
---
Q: I downloaded the EasyReader for iOS app in order to read Bookshare books on my iPad. When I select "Sign Up" I receive the error message: "No Connection, Please make sure you are connected to the Internet, and try again."
A: Please try going to your iPad's WiFi settings and change the "APN Protocol" setting from "IPv4/IPv6" to "IPv4" as demonstrated in the following YouTube video (where the WhatsApp app encounters the exact same error message as EasyReader): https://www.youtube.com/watch?v=Fc9g-tGOzM0
Q: Do you have any instructions on how to link my Bookshare account to the EasyReader app on an iPad?
A: Yes. The EasyReader user guide can be found here: https://yourdolphin.com/support/categories?product=ts
Q: I have an iPad that's currently running iOS version 9.1. In the EasyReader app I'm able to search for books as well as download them, but any attempt at opening a book causes the EasyReader app to instantly crash.
A: EasyReader for iOS is crashing in an iOS audio system function that appears to be only available in iOS 9.2 (and above). Therefore in order to resolve this problem we recommend that you update the version of iOS that's currently running on your iPad to version 9.2 (or above).
Q: Can the EasyReader app download books from LearningAlly?
A: Not at the moment. We would love to add LearningAlly to our list of supported online libraries and would welcome the chance to work with them.
Q: In the EasyReader app when I go to CELA books the screen changes and it asks me to Login. What do I use as this is in EasyReader and not for ordering books on CELA?
A: You enter your CELA login credentials (when prompted by the CELA library service) in order to download books from the CELA library into the EasyReader app. For ordering CELA books and for problems with your CELA login credentials please contact CELA.
Q: I can't figure out how to download books from CELA in the EasyReader app. Do you have any video tutorials or step-by-step walkthroughs?
A: Help on the EasyReader app can be found in both the EasyReader app itself (Menu ->About & Help ->Help for EasyReader) and on the following web page: https://yourdolphin.com/support/categories?product=ts
Q: Do you have a written tutorial that I can share with other teachers on how to use the EasyReader for iOS app?
A: Yes, in the support section of our web site - https://yourdolphin.com/support and also in the support section of the app itself (Menu ->About & Help ->Help for EasyReader).
Q: I'm trying to connect the EasyReader app to my CELA account without success. The app is complaining that the username or password is incorrect.
A: Please follow these instructions on the CELA web site:
http://iguana.celalibrary.ca/iguana/www.main.cls?surl=CELA-EasyReaderQuickUsersGuide&theme=celadefault&lang=eng
If your CELA login details are rejected please contact CELA first. Similarly, if the CELA book you've ordered is not available for download please contact CELA first.
Q: In the EasyReader app I can successfully log into my CELA account, but it always returns with a screen saying "no books found".
A: Unlike other libraries (like Bookshare), which present a complete search facility, for CELA books the EasyReader app retrieves the list of available books from CELA's Direct to Player queues. So if a CELA user doesn't first add books to their Direct to Player queue they get no books listed.
Q: I've just downloaded the EasyReader app. I currently using NLS BARD and Bookshare. Can you tell me if I qualify to use CAMI, CELA or Vision Australia?
A: You'd need to contact each of those libraries directly to see if you're eligible for their service.
Q: I downloaded a DAISY book .zip file from my library web site on my PC and then copied it to Phone/Android/data/com.yourdolphin.easyreader/files/Downloads folder on my phone. In the EasyReader app I then tried the "Import book from" ->"Downloads" option, but I received an "Import failed - There are no supported books available in this location" error message.
A: The Downloads folder referred to in the EasyReader app's Import menu refers to the default Downloads folder on your Android device (used by the Chrome web browser etc. on your phone). This folder's location is set by the operating system and is usually somewhere like /storage/emulated/0/Download (but is user settable). For further information on the location of the default Downloads folder on your Android device please contact your device's manufacturer.
Q: Every time I start the EasyReader app on my iPad it gets stuck on the "Loading…" screen.
A: Please start the EasyReader app with your iPad in OFFLINE mode. i.e. Not connected to WiFi or a 3G/4G phone network. After starting the EasyReader app with your iPad in offline mode, the "Welcome to EasyReader" screen should be displayed, then re-connect your iPad to WiFi/3G/4G and proceed with the Dolphin ID sign up process. If you're WiFi is behind a local area network proxy server (or something like that) that's sometimes used in schools or corporate environments then perhaps you can connect to an iPhone hotspot instead during the initial start-up and Dolphin ID account creation phase. If you can create a Dolphin ID and successfully login using it and a hotspot then those credentials will be saved on your device so that this step can be omitted in the future. Your problem is probably to do with a proxy server on your local area network and you may well not encounter this problem on your home WiFi network.
Q: When I download a book from the CELA library on my Android tablet, all is well until the download reaches 100%, then my CELA download reverts to "Borrow" and if I go to EasyReader's "My Books" list my book is not listed there.
A: Please check how much free storage space you currently have left on your Android device. Since CELA books are large audio-only books you may well need more than 1 Gb of free storage space available on your device in order to have enough free storage space for EasyReader to both download and copy your chosen book. i.e. Your book is first downloaded to a temporary folder on your device and then at 100% downloaded it's then copied to your EasyReader bookshelf folder. This means that EasyReader requires double the book size of space available for downloading a book. If you're currently low on free space on your device then you'd experience the symptoms described above. So you need at least twice the size of the book that you're downloading available in free space on your device.
---
Speech & Sound
---
Q: I've downloaded EasyReader for Android and the only voice currently available is Mexican Spanish. Can I use any of the other system voices that came with my Android device, like the Acapela voices?
A: Yes. If you have Android version 5 then on your Android device go to its Settings ->Language and Input ->Text-to-speech options. In the Text-to-speech options screen of your Android device you'll see a Preferred TTS engine list. From that list choose one of your other currently installed text-to-speech voice engines. Once you've changed your preferred TTS voice engine to the one that you want to use, then when you re-start your EasyReader app you'll be able to use it that voice engine within EasyReader. On an Android 6 and 7 device go to Settings ->Accessibility ->Text to speech output instead. Step-by-step instructions can be found here:
https://mcmw.abilitynet.org.uk/android-7-nougat-text-to-speech-output/
Q: My iPad has working sound on it but the EasyReader app won't produce any speech output. I've read through the support section of your web site and it mentions adjusting the sound options, but that didn't help.
A: EasyReader uses the voices that are built into you're operating system. Therefore make sure that your iPad's system voices are working. If they don't work on your system, then they won't work in EasyReader either. So go to your iPad's Settings ->Accessibility ->Speech ->Voices, see which of your system voices currently has a check mark next to it, select that voice, and then press its "Play" button icon in order to hear a sample of that voice.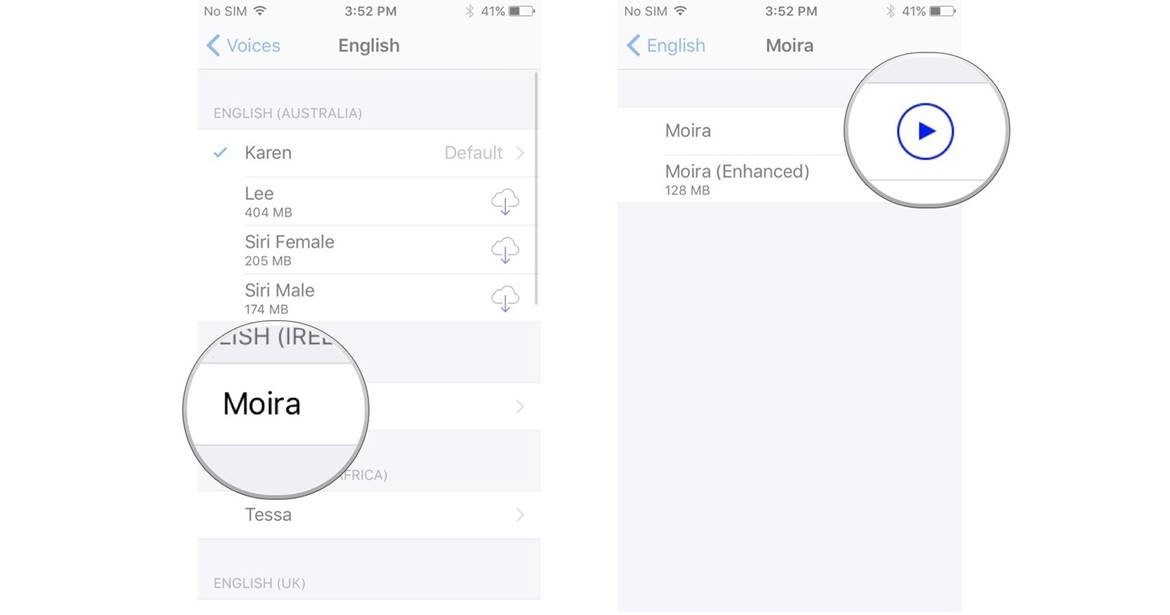 If that works, then give your selected voice a slightly bigger test by going to your iPad's Settings ->Accessibility ->Speech ->Typing Feedback, and enable the Characters option. Then go to any text box on your iPad, like the Search box, and type some letters. If you can hear the letters you type then that voice should also work with the EasyReader app. Let us know if your system voices work, but EasyReader is still not speaking. If your system voices are not working then you will need to contact Apple support.
Q: I'm using the EasyReader for iOS app with elementary school special education students on two different iPads. One iPad has many more voice choices than the other. Is there a way to download other voices onto the iPad with the more limited voice selection? That iPad's current voice selection currently detracts from full comprehension while reading.
A: Yes, extra voices can be purchased within the EasyReader app from its "Audio Settings" dialog box. See https://yourdolphin.com/support/article?id=46&lid=2 for further details. And further help can be found here: https://yourdolphin.com/support/categories?product=ts
Q: The bookmark audio recording portion of the EasyReader app is not working on my iPhone.
A: You must grant the EasyReader app permission to access your microphone. When you first enter the bookmarks dialog box your iPhone will ask you if the EasyReader app can have permission to access your microphone. You can choose Yes or No. If you choose Yes the feature should work as documented. You can also grant access to the microphone in the device Settings and select the EasyReader app. Turn on the microphone permissions for EasyReader and restart the EasyReader app.
Q: I've just purchased a new Android version 8 device. When I start the EasyReader app on this new device a musical tone starts playing and continues during playback of all audio books.
A: Your problem is being caused by your current Android notification settings for your EasyReader app on your new Android 8 device. Android 8's own app notification settings override whatever notification settings that the EasyReader app sets as its default (even between re-installations of the EasyReader app). To stop your Android 8 device's notification settings from making any sounds at all for the EasyReader app you'll have to change the "Importance" level of the specific EasyReader app notification on your device. To do this:

1. Open any book in the EasyReader app.
2. Pull-down your Android device's notification bar (from across the top of the screen) and long-press on the EasyReader notification entry until it changes to display its options and then press "Details".
3. Your device should now display the Android 8 App Notifications settings page for the EasyReader app, at the bottom of this page there should be a notification category named "Playback" listed under "Categories", tap on it to open the settings for this particular notification category.
4. Tap on the "Importance" setting for this particular notification category and set it to "Medium".

If you're able to watch videos, there's a YouTube video demonstrating how to do this here: https://youtu.be/BmGqJRwiAic

Also, here's a video from Google explaining why they've made this change to the latest versions of Android and how you can fine-tune different categories of notifications for individual Android apps:
https://www.youtube.com/watch?v=zGIw4MIJn5o
---
Usage
---
Q: I'm using the EasyReader app to download books from Bookshare and I need to find out how to delete books that I've finished reading.
A: To delete a book go to "My Books" (where all of your downloaded books are listed), on the cover of the book that you want to delete tap the "i" (book information) icon in order to bring up the book information for that book. In the book information window tap the trash can icon to delete the book. I concede though that this is not very intuitive.
Q: Can my students use the EasyReader app to read Microsoft Word and PDF documents, as well as in the web browser?
A: No. the EasyReader app is for reading books, magazines and newspapers directly downloaded inside it from an online library service (like Bookshare) in DAISY or ePub format. It has no OCR, PDF, Microsoft Word or web browsing features.
Q: Is it possible to load books through iTunes?
A: No.
Q: Are there plans for the EasyReader app to read MathML embedded in ePub3 books?
A: This suggestion is on our list of possible things to do in the future.
Q: I have an iPad running iOS 10.3.3. I've downloaded a couple of books from CELA and then deleted them using the process described on the CELA website, and the books were removed from My Books list. However, the free storage space on my iPad seems not to have increased after the books were deleted.
A: Try going into your iPad's settings and follow the instructions on the web page for deleting the "Documents & Data" for a particular application (in your case EasyReader): http://www.techbout.com/delete-documents-data-iphone-11719/ By following the instructions on the linked to web page you'll be able to see the actual figure for documents and data storage space that the EasyReader app is currently using. In addition, you might want to google: ipad storage space not adding up because some non-EasyReader app users have also experienced the storage space figure quoted on an iPad sometimes not increasing.
Q: Is there a way to filter out adult content in EasyReader so that it's child friendly?
A: Not at the moment, and this feature would also depend on whether the library concerned returns metadata for each book classifying whether that book contains adult content or not.
Q: Sentence highlighting works well on my Android device, however word highlighting is not working.
A: On Android devices word highlighting is only available for the Nuance Vocalizer voices (the ones that you can purchase in-app). For the Android default text-to-speech voices, unfortunately they're limited to sentence only highlighting.
---