Opening a book
Please note, to open a book in EasyReader Mac, you need to have already downloaded the book from www.legimus.se and saved it to your Mac device.
When you open EasyReader, a 'Welcome' dialog will be displayed. This dialog provides a list of the books you have recently read, along with an option to open a different book.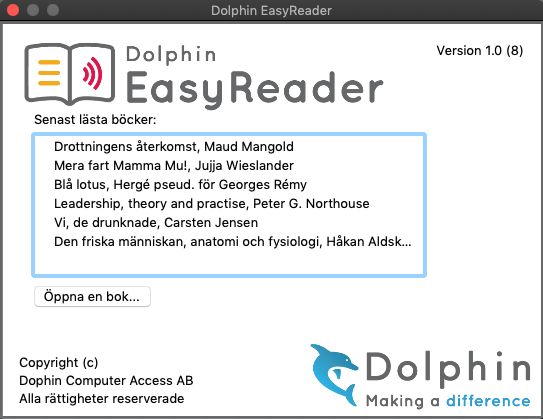 To open a book you were previously reading, simply select the book from the list of recently read books and the book will open in the Reader.
To open a different book which is available on your Mac:
Choose the 'Open a book ...' button from the 'Welcome' dialog. The Mac Finder will be displayed. If you are in the Reader, you can open a different book by selecting the 'Open' button at the top left of the screen.
Find the folder containing the book you would like to open.
Select the start file for the book. This is usually labelled 'ncc.html'.
The book will be opened in the Reader.
---