Dolphin EasyReader App inducted to the AppleVis Hall of Fame.
Published:

EasyReader App joins notable products such as DropBox, SeeingAI and Cash Reader in the Hall of Fame, as an app recognised for its full accessibility.
This recognition comes from a global community of blind and partially sighted app users, which means a great deal to us at Dolphin. It reflects the ongoing hard work and dedication of the EasyReader App development team, to build and maintain the app for accessibility and usability. They prove that developing apps with accessibility build in from the start benefits everyone.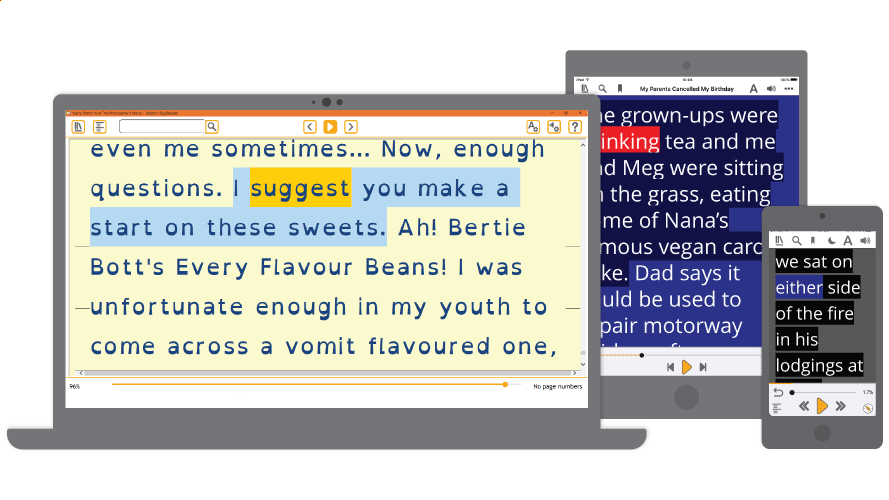 Each year, AppleVis has a public vote, to select two apps which its community decide are worthy of induction into its Hall of Fame. This is what they said about EasyReader App:
"EasyReader is fully optimized for use with iOS VoiceOver and iOS supported Braille displays. You can choose to read with VoiceOver or any other voices already on your device, and you can buy more for use specifically within EasyReader App. This app was designed with VoiceOver and large print in mind so it is completely accessible. The app is fully accessible with VoiceOver and is easy to navigate and use."
"This is a wonderful app for low vision people! I can now enjoy the latest books and keep up to date on the news! Thank you so much for your generosity"
-
Anna, Canada
"New EasyReader App from Dolphin is a breath of fresh air in accessing RNIB Talking Books and Newspapers and magazines for blind and partially sighted people. So much content to consume via my ears!"
- Chris Lewis
"I love this app! This is a great tool for struggling readers. The best thing of all is that it is FREE! This allows my students to read the highlighted text, stop & start it, & bookmark text. I just love it. 10 stars!"
- Mary Mc
About the AppleVis Hall of Fame
The AppleVis iOS App Hall of Fame celebrates the skills and passion of developers who build apps that are fully accessible to VoiceOver users. It recognises the hard work that goes into creating and developing great iOS apps that are made to be inclusive and accessible to people with visual impairments.
To be eligible for induction, AppleVis state that an app must:
Be fully accessible to blind and low vision users,
Be from a developer with a demonstrated and long-term commitment to the full accessibility of their app(s),
Demonstrate excellence in design, function and operation,
Have been available in the App store and fully accessible for a significant period of time,
Be under active development.
What is AppleVis?
Founded 12 years ago, AppleVis is a global online community of blind or partially sighted people who are also users of Apple products. The AppleVis community uses its collective knowledge and experience to help everyone get the most from their Apple products and apps. From fixing issues to providing advice for ways to improve – or campaign to improve – accessibility.
AppleVis is an active forum and a leading online resource for blind and partially sighted people. It hosts a regular podcast, an interesting blog and offers reviews and tracks bugs. AppleVis also provides free information and guides for developers to make their apps accessible.
EasyReader App
EasyReader App is an accessible reading app that works on Apple products. It is also available on Android, Kindle Fire, Chromebooks and Windows devices. EasyReader is also built into the Dolphin SuperNova range. EasyReader technology is used in the Dolphin GuideConnect software, with a simplified user interface.
In addition to an accessible reading experience, EasyReader also provides access to over 40 accessible book libraries and newspaper services globally. This is the largest directory of accessible libraries available. It ontinues to grow as new libraries are added to join the likes of RNIB Bookshare, CELA, Vision Australia, NLB BARD, Legimus, Bookshare and Project Gutenberg.
EasyReader App opens a world of accessible books
With EasyReader App, readers can choose to listen to accessible books, both with recorded audio if that's available, or through text to speech (TTS) to read with their device's own synthesised voice, such as VoiceOver.
It is also possible to connect EasyReader to a refreshable braille display to read with braille.
EasyReader App enables readers with partial sight or dyslexia to read books and other material with enlarged text. Readers can also customise text sizes, fonts, colour schemes. Or choose highlights, which follow words or lines on screen to read along with audio.
Most importantly, EasyReader App is free to everyone who downloads it. With access to free libraries around the world, this is an important tool to help people who are blind, partially sighted or have a neurodiverse condition such as dyslexia, to read and access books and other reading material.