SuperNova Enterprise Benefits

---
Centrally Managed & Maintained
---
Designed to simplify deployment & management in professional multi-user environments, your SuperNova Enterprise key unlocks all editions of Dolphin SuperNova & ScreenReader. Deploy any edition to suit your clients' needs.

Access to local and remote networks, thin and thick clients.

One step unlock & activation – no need to authorize each workstation individually.

An Administrator Utility facilitates deployment options, including start-up options, provides diagnostic information and enabling/disabling modules to suit your IT policy.
---
Cost Effective
---
---
Accurate Magnification, Speech and Braille Tracking
---
SuperNova can be installed to the server, so your users' magnification, speech and Braille all accurately track the application they're accessing through your Citrix or Remote Desktop session.

Speech, braille and magnification are available on both thin and thick clients, including SuperNova Magnifier TrueFonts in full screen mode.


SuperNova Enterprise can be configured to work with your Citrix published applications and published desktops.
---
Always Responsive
---
Dolphin's Citrix and Remote Desktop Services support remains fast and responsive enabling your visually impaired computers users to be fully productive. (Please note: Magnification is more responsive under Citrix's ICA protocol, than when using RDS's RDP protocol.)

Bandwidth usage is optimised as all speech audio is generated on the client machine and is not streamed across your network.
---
Your Applications, Fully Accessible
---
Not all applications are accessible and for visually impaired employees may result in reduced productivity, frustration or total inaccessibility. Dolphin's scripting service can remove these barriers by creating a bespoke 'script' that ensures your proprietary or third party applications are seamlessly speech and Braille compatible. Talk to our sales team to review your applications' accessibility.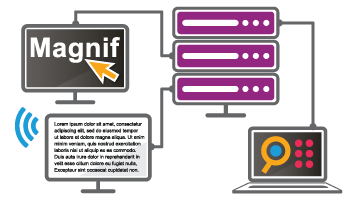 ---
Flexible Licences - Pay Per User
---
Because we license your users, not their devices or your installations, choosing SuperNova Enterprise for your Citrix and Remote Desktop Server environment is the flexible and affordable option.

Flexible licences suit organisations with users in central and/or remote locations.
---
Expert Product Support
---
Included with SuperNova Enterprise is direct access to Dolphin's 1st line product support team, as well as advanced support tools for troubleshooting.

Authorised dealers for SuperNova Enterprise have been chosen for their expertise in both accessibility and Citrix and Remote Desktop Server environments.

Onsite installation support is also available upon request for an additional charge.