SuperNova Enterprise Features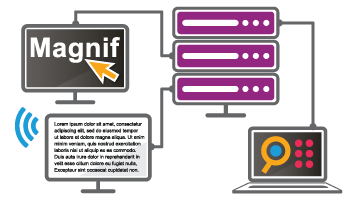 ---
Magnification
---
1.2 to 64 Times Magnification
SuperNova's True Font technology looks beautifully smooth even on the largest displays. Magnify text and images from 1.2 all the way up to 64 times. And because everyone's eyesight is different, magnification comes in 28 sizes so your users can find a perfect fit. Zoom in and out as much as needed with a touch of a key or spin of the mouse wheel.
8 Magnifier Views
8 magnifier views keep documents and apps in perspective. Users can show their magnification:
Full screen
Split screen (top, bottom, left or right magnified)
Fixed window
Movable magnifying glass
24 Colour Schemes
Choose from 24 carefully designed colour schemes each designed to reduce glare and maximise your comfort while reading. Alter the appearance of colours on your screen, preserving the original document colours for printing. Or users can make their own scheme by adjusting brightness, contrast or colour tint. Colour Replace can swap colours to show only the shades that users recognise, making reading web pages easy again.
High-Vis Mouse pointers
Mouse pointers which are easy to see but keep out your way. Users can choose from 4 popular mouse pointer colour schemes or create their own scheme to make the mouse pointer easy to see. Set the pointer size independent of your magnification level so text is never hidden by the mouse. With over 200 pointer images included, the mouse pointer has never been so flexible.
Multiple Monitor Support
Get more done with multiple monitors. Magnify on one, two or as many displays as required. Multi-task with each magnified document on separate screens; project presentations original size to sighted audiences keeping speaker notes magnified on your laptop; users can also work closely with a trainer or colleague who can follow a clone of their display, but at regular size.
---
Speech
---
Human Sounding Speech
SuperNova features the high quality, human sounding, Vocalizer Expressive text-to-speech synthesiser to read documents and apps out loud.
Speak as you Type
Characters, words or both can be spoken aloud to improve confidence while writing in any text field such as a document or the Subject field of an email.
Read from Here
Read from Here is for when users simply want to have a document or web page spoken in its entirety. Start and stop reading with a single keystroke or mouse click. As the text is spoken, the current word and line is highlighted visually - ideal for sighted trainers or users with some sight.
Quick Navigation Keys
Quick navigation keys skip forward and back through Microsoft Word documents, web pages and PDFs in Adobe Reader. At the touch of a key, rapidly locate: Landmarks, form controls, graphics, headings, links, lists, frames and tables.
Place Markers
Place Markers make it easier to navigate favourite web pages. Add a Place Marker to any text, heading, link, field or button. Once added, you can skip straight to the Place Marker the next time you visit the same web page.
Item Finder
Item Finder speeds up navigating complex documents and web pages by listing: Links, Headings, Objects, Tables, Revisions, Comments, Spelling Errors, Controls, ARIA Landmarks and Place Markers.
---
Screen Reader
---
Text Style Information
Text style information is announced so users can check their documents look great. Fonts, sizes, colours, bold, italic, underline, subscript and superscript changes can all be reported.
Four Built-in Verbosity Schemes
Verbosity tells users about the types and states of over 60 kinds of control as they tab and arrow around web pages, Windows and app dialogs. Hear if checkboxes are checked. Hear the position of sliders. Hear if links have already been visited. Users that are just getting started can choose High Verbosity and SuperNova will remind them which keys to press. Choose from 4 built-in verbosity schemes or take ultimate control and create your own verbosity. Braille users can choose speech and Braille verbosity independently of each other.
Monitor Markers
Monitor Markers announce changes occurring elsewhere onscreen away from the cursor. Security notifications appearing in your web browser, file download progress, when the other person in an instant message conversation is typing a message, Monitor Markers will cause SuperNova to speak automatically. If your user doesn't want to hear these notifications they can toggle Monitor Markers off.
The Dolphin Cursor
Dolphin Cursor explores the screen and controls the mouse, from the keyboard. Perfect for people who cannot see the screen or find using the mouse difficult.
---
Braille
---
Over 50 literary and computer Braille translation tables included for Braille beginners, language students and computer programmers. Also includes the new Unified English Braille Code alongside traditional Grade I Uncontracted and Grade II Contracted codes.
Over 60 Braille Displays Supported
Connect with a cable via USB or serial, or go wireless with Bluetooth; SuperNova Magnifier & Screen Reader supports over 60 Braille displays from the leading Braille manufacturers, including:
EuroBraille Esys
Freedom Scientific Focus Blue
Handytech Active Braille 40
HIMS Braille Sense
Optelec Alva BC640
Orbit 20 Braille Reader
Humanware Brailliant
Optelec Alva Comfort
Optelec EasyLink
Papenmeier BrailleX Duo